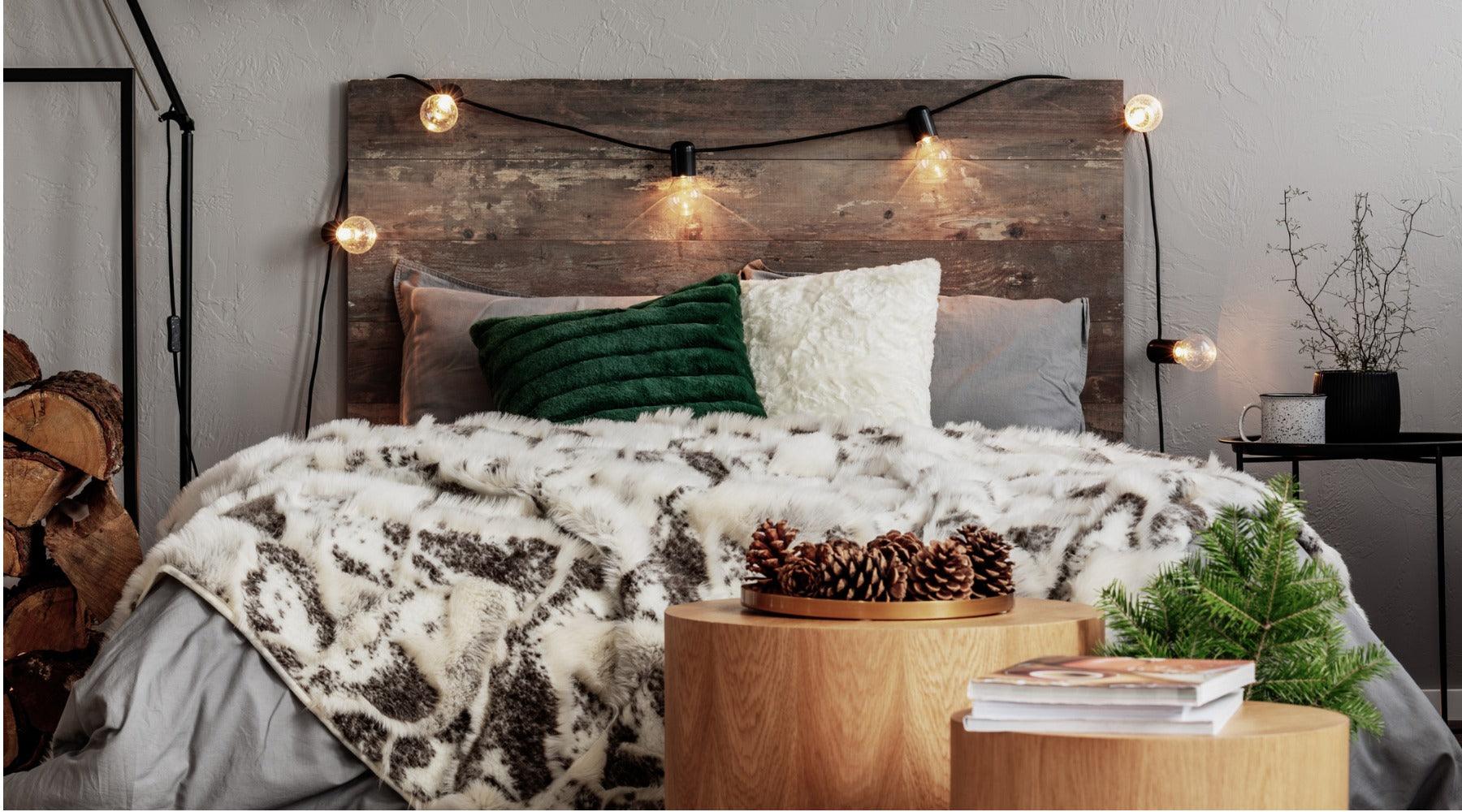 How To Winterize Your Bedroom
Short days, sub-zero temperatures, and blistering gales—if winter weather has you wanting to hibernate, use our tips to turn your bedroom into a haven from those dark winter nights.
Wake Up to Sunrise (Sort Of)
Winter mornings are tough on everyone; cheat winter by investing in a sunrise alarm clock. These start to glow up to 90 minutes before your wake-up time, reaching full brightness as your alarm sounds. If you struggle with Seasonal Affective Disorder (SAD) get a therapy lamp, which imitates the frequency of natural sunlight. Buy one that generates 10,000 lumens or more—the brighter, the better.
Winter-Proof Your Environment
Hold your hand up to the closed window—if you feel a draft coming in, this will cause your room temperature to plummet and your energy bills to skyrocket. Seal it off using caulk, weatherstrip or foam insulation. You could also add blackout curtains. Not only do they block sunlight, they also insulate the room—pick double-celled shades for extra insulation. Finally, if you have cold hardwood floors, put a rug or a pair of slippers by your bed so that you'll sink your toes into something warm in the morning.
Keep It Humid
Humidity is lower in winter, and heaters dry out the air further, making skin prone to chapping and dryness. Combat dry air with a humidifier or diffuser—pick one that's quiet and unobtrusive. Some diffusers even allow you to add essential oils like lavender or cinnamon for a cozy, relaxing scent. Your houseplants will love you for it, too—the dark, dry winter season is a particularly difficult time to keep plants healthy and happy.
Switch Up Your Bedding
Depending on where you live, the duvet you used in summer may be too thin now. Swap it for a winter duvet with a TOG (Thermal Overall Grade) value of 12 or higher. Down or wool duvets offer the best insulation—if you're vegan, look for GOTS- and OEKO-TEX certified down alternatives. Check your mattress and pillows, too. If they're starting to get lumps or permanent indentations, it's time to get new ones.
We also recommend switching to linen duvet covers if you haven't already. Many of us associate linen with the summer months, and with good reason—linen's long, hollow fibers and loose weave make the fabric breathable, keeping you cool and dry. But those same hollow fibers also make linen a great insulator, retaining your body's heat. Linen has natural heft, so ditch the weighted blanket—your linen duvet cover will seal off any drafts on its own. And thanks to linen's moisture-wicking properties, you'll be warm but not sweaty.
If you want a warmer night's sleep in beautiful, ultra-soft bedding, check out our range of organic linen duvet covers. Printed with Scandinavian nature-inspired designs, our modern duvet covers help bring the outside in. Hypoallergenic and free from harmful chemicals, our organic duvet covers are made from the finest European flax linen, making them the ideal choice all year round.
How are you winterizing your bedroom this year? We'd love to hear—let us know on Instagram, Pinterest, Facebook, or Twitter!