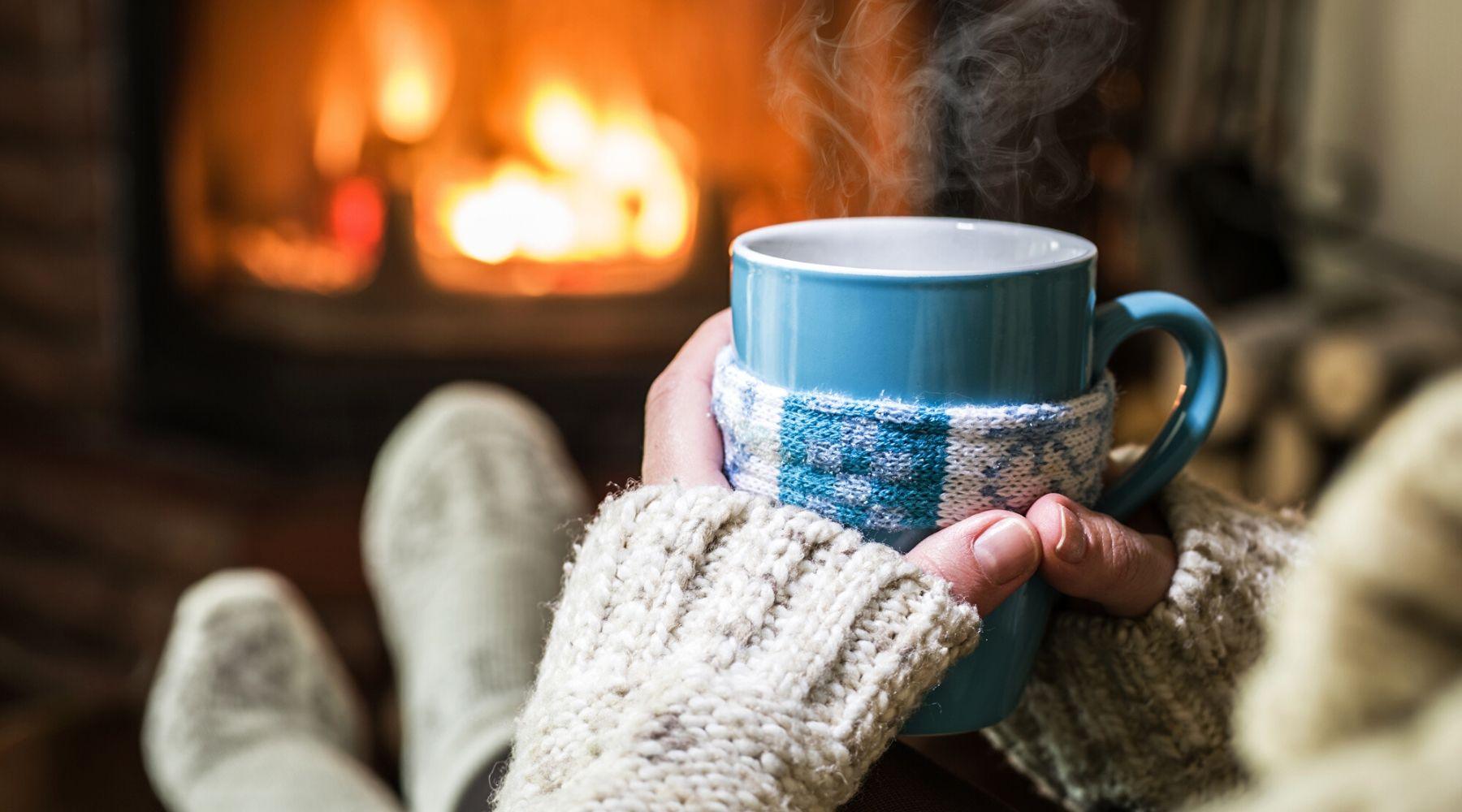 How to Hygge: 5 Ways to Bring This Cozy Danish Concept to Your Life and Home
Have you heard of hygge? If not, we think you're in for a treat. Whether you love home design or you're a person who tends to run cold in the wintertime, hygge is a vital element for creating a home that's warm and welcoming, for you and your loved ones.
What is hygge? Hygge is a Danish and Norwegian word with layered meaning. It's used to describe a cozy mood, a comfortable togetherness, and the sense of wellness and contentment that comes from enjoying the simple things in life. It can be used as a noun, verb, or adjective. You can even use it in the word hyggeligt, meaning hygge-like (we'll give you more examples of that soon).
Although it's been emphasized more recently as a lifestyle trend (see The Little Book of Hygge by Meik Wiking), hygge has been there all along. It's a concept particularly central to Danish culture, where people are consistently ranked as some of the happiest people on earth—which has led many to wonder: could it have something to do with hygge?
The good news is: hygge isn't just for Danes. As you'll soon find out, hygge is something most of us humans are familiar with, whether we call it that or not. And while hygge might be a necessity in the midst of miserable Scandinavian winters, hygge can turn any weather into a reason to take time and space, and enjoy the moment.
By now you might be wondering how to put this into practice. We could all use a little more hygge. Here are our favorite tips for introducing more hygge into your life and home. Grab a cup of tea and listen in.
1. Add hygge things
Because hygge is physical and multi-sensory, a good place to start is by paying attention to what moves your senses toward warmth and presence. You can evoke hygge by touching soft fabric, smelling fresh crackling wood on the fireplace, or holding a hot cup of tea in your hands.
Home design elements that add hygge include softness (visually, as in color, or to the touch), warmth (turning up the heat, warming up colors, or adding fire), and clarity (keeping the environment uncluttered, which is soothing and focusing). And because Scandinavian home design tends toward clean lines and a somewhat minimalist aesthetic, hygge accents help create balance.
Some home accents are obviously hygge, such as candles, fireplaces, and throw blankets. Yet, sweet and spicy smells can also be hygge, as can comforting sounds like the soft music or rain falling (you can try a white noise app if the weather won't cooperate).
And let's not forget the wearable hygge. If you're cold, warm your body with things like oversized sweaters, thick socks, puffer jackets, and slippers.
If a hygge home still feels elusive, even after adding cozy items, it's time to get personal. You might be too focused on creating a put-together home, or a space that's impressive to others. But hygge is not about what everyone else finds comforting or attractive. Here, a little reflection (and vulnerability) goes a long way. Add memorabilia and nostalgia to your everyday, with things like a stack of your favorite books, your most worn and well-loved items, and whimsical décor. Sometimes hygge lives in something silly that makes you laugh, or that favorite pair of pants you wear only inside—also known as hyggebukser. We encourage you to be brave, put your favorite things front a center, and make your space your own. (Your true friends will understand.)
2. Eat and drink hygge
As a culinary experience, hygge is warm and soft, comforting, and easy to share with others. What do you like to eat or drink after a romp in the snow? What were your favorite foods as a child? Hygge food can be sentimental, and definitely includes your grandma's recipes and holiday foods. It can be celebratory, like pizza and popcorn. And the sweetness of hygge is often reflected in the sugar content of hygge food and drink, such as homemade sweets, hot chocolate, and more.
Remember: hygge is about giving yourself a break. If you don't have to, don't worry about the dietary impact of a pastry or chocolate chip cookie. But if you do need to watch your diet, try hot tea, change the recipe so it's healthier, or use other non-food and drink hygge elements to get you there.
3. Do hygge activities
Of course, hygge is not just in the things. It's also in what you do. But how do you hygge? When you're lacking, it's easy to identify what's definitely not hygge, such as feeling stressed or isolated, looking at your phone too much, and checking your email (again). Hygge is about relief from expectations, achievement focus, and rules. Often what we need is to take a break.
When you feel like you're missing the social end of what's hygge, we suggest you first try a hyggesnak—a cozy chat. Take the time to connect with a loved one. Layer on more hygge by chatting over coffee or tea, or sitting somewhere soft and warm, and you'll be on your way to wellness again.
And when you're ready to graduate to daily moments of hygge—and keep your (tea)cup full—you need look no further than fall and winter for inspiration. You heard it here: you have permission to indulge in cozy, warming seasonal rituals whenever you feel like it, and not just when you really need them. Enjoy hygge by knitting, making soup or stew, baking, playing games or sharing a movie night with friends and family. And don't forget to sleep! Getting plenty of restorative sleep is very hygge.
4. Get into nature
"There's no such thing as bad weather, only bad clothing." Sounds like something a Danish person would say! No matter what's happening outdoors, Scandinavians believe in the value of time spent in nature. It's refreshing, restorative, offers perspective, and particularly when shared can be very hygge. Yes, even when the weather is cold.
Some outdoor activities to try: apple picking, long walks with friends, camping trips with marshmallows, night walks and stargazing. If you think you'll be too cold, bundle up, and bring a hot cup of coffee or tea. And if it happens to be warm out (or maybe you live somewhere it never gets cold), remember that outdoor hygge is not just for the colder months. In warmer weather, try hikes with friends, picnics in the park, backyard dinner parties, and a Scandinavian favorite: bike rides.
On a deeper level, the relationship between hygge and nature is about focus and contrast. The outdoors have a way of bringing your attention to your body and the present moment, giving space to notice the more simple and rewarding parts of life, like togetherness and your connection to the outer world. Time in nature also highlights the comforts of the civilized indoors, helping you to appreciate those comforts even more.
Inside your home, you can use nature as point contrast by increasing natural light and views of the outdoors, and bringing natural elements inside for decoration. And then all you need to do is be on the lookout for hygge moments, such as reading indoors while you watch the rain come down, or sharing hot cocoa by the fire on a snow day.
5. Add hygge in the bedroom
At the Modern Dane, we focus on the bedroom in particular, partly because we love our beds, but also because the bedroom is so often the most cozy escape from everyday life. Another benefit of working on your bedroom? Maximizing hygge here not only brings about calm contentment, but also leads to more restful sleep. Getting enough sleep will give you more energy and improve your mood, making it easier to seek out and find hygge the next day.
In the bedroom, we suggest choosing neutral foundational colors, to soothe the eyes and give the nervous system a break. And with a foundation of calm, add colorful accents if they make you happy. Let in plenty of natural light, and views of the outdoors if you can, and add hygge materials such as bed linens, throws, and rugs. (The Modern Dane duvet covers add natural hygge texture and joyful color to any bedroom arrangement.)
And don't forget a personal touch. Add décor that reminds you of good times with family and friends, or simply items that you cherish—and, of course, a place to sip your coffee or tea.