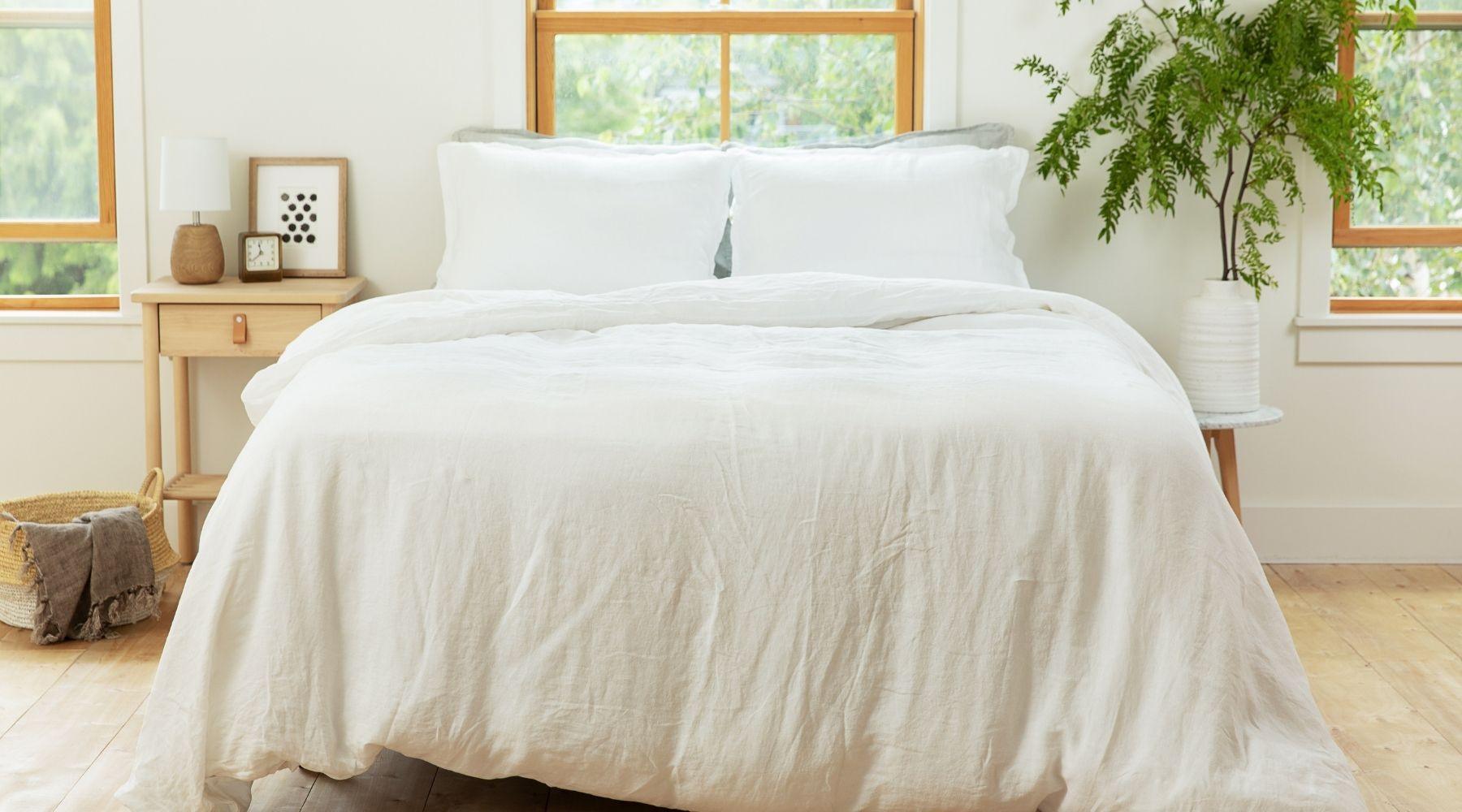 How To Decorate Your Guest Bedroom, Scandi-Style
In Scandinavia, the first flowers are peeking through the soil, heralding the coming of spring. With them come the first glimmers of hope—soon, we'll be able to welcome guests back into our homes and hug them as before. In preparation for this, it's time to refresh your guest bedroom, which has likely been neglected over the past year.
As the inventors of hygge, lagom and samfundssind—concepts that prioritize connection with others—we decorate with guests in mind, curating spaces to create an atmosphere of cozy serenity. Read on to see how you can incorporate Scandi-style into your guest bedroom.
Declutter the Space
Minimalism is a core tenet of Scandinavian design: simply put, your space should have what you need. This means different things to different people, of course, but most of us could do with going through our things and recycling or donating what we no longer need. The result is a calmer, more serene space where belongings are organized and items are easy to find.
Complimentary to that minimalist ethos is the principle of quality, of using well-made objects that will last for a long time. When decorating a room, it's easy to become overexcited and fill the space with trinkets and tchotchkes. Remember to edit—step back and look at the space, then select just a few items that will have maximum impact and stick around for years to come. They don't have to be expensive—buy second-hand to secure unique and designer items for a bargain price.
Pick A Color Scheme That Soothes
White is the predominant color in Scandinavian interior design, and for good reason. White embodies many of Scandi style's core values—minimalism, practicality and simplicity. It bounces light around a room, making the most of limited natural light. If you're intimidated by color, go for an all-white look that evokes the fresh snows of winter. It might initially sound uninspired but if you commit to it, there's something undeniably bold about matching white walls with white sheets, white floors and even white artwork, like this example from HomeyOhMy.
If you're feeling a bit braver, introduce color to the mix. These bedrooms on That Scandinavian Feeling use color in a way that still holds true to Scandi principles. Colors like taupe, olive and blush are soft and soothing tones that evoke the natural world: think the feathers of a dove's wing; the needles of an evergreen tree; the petals of dried flowers. You will occasionally see bolder colors—like this season's vanilla yellow—but they tend to be used as pops of color rather than the main theme. If you do opt for a bold color, keep the rest of the room simple and use complementary accent pieces to create harmony.
Include Wooden Pieces
Natural woods—particularly light woods like beech, ash and pine—are quintessentially Scandinavian. Incorporate light woods through bed frames, drawers and picture frames. If you have enough space, add an accent chair or two—you can't get much more Scandi than a steam-bent wood chair, like the ones created by Danish design masters Hans Wegner and Finn Juhl. Source sustainable wood furniture and avoid endangered woods such as mahogany and African teak.
Plants, Plants and More Plants
The Scandi lifestyle is all about spending time in nature—so much so, that when Scandinavians can't go outside, they bring nature indoors. Minimalism doesn't apply here: fill available spaces with green, leafy plants like rubber plants, fiddle-leaf figs and swiss cheese plants. If the conditions in your guest room don't let you keep plants, use cut flowers or dried plants such as tumbleweed, birch and yarrow. This bedroom from My Scandinavian Home creates a harmonious look using cut and dried flowers—note that the vases also fit the Scandi aesthetic. Incorporate floral wall art or printed fabrics: our organic linen duvet covers are inspired by Danish floral-print bedding, which comes from a long tradition of Danish nature-inspired works dating back to the Flora Danica and Marie Gudme Leth.
Candles and Scents
Candles are a huge part of the hygge vibe—fill the room with them to make your guest feel at home. White, unscented candles are the norm in Scandinavia—but if scents are more your thing, pick a nature-inspired, woodsy scent or a spicy aroma that evokes fireside coziness. Keep it subtle, though: your idea of a beautiful scent may be different to your guest's. You can also add scent using pine branches and cut flowers. Before your guest arrives, throw open the windows to let fresh air into the room, then light candles or add a vase of flowers so they feel that hygge ambiance from the moment they walk in.
Mix Touchable Textures
Wool, (faux) fur and linen—Scandinavian bedrooms are all about these coarse-woven, touchable fabrics. Picture a dense rug to sink your feet into, a chunky, cable-knit blanket or a fluffy throw draped over the arm of a chair. Mix them up and pile them high, creating a hyggekrog (reading nook) for your guest to snuggle in after an evening of sharing stories and hot drinks by candlelight.
When it comes to dressing your bed, there's nothing better than organic linen, a sustainable and ethical fabric with hypoallergenic properties. Linen is the ultimate Scandi fabric—it looks rumpled and lived-in yet is soft and comfortable. Our Scandinavian duvet covers come in plain colors—so that beautiful texture is front and center—or in nature-inspired prints that complement your plants perfectly. Both breathable and insulating, our European linen duvet covers will help ensure your guest gets a great night's sleep in every season.
Finally, add the finishing touches. Clear some space in the drawer and closet for your guest's luggage, and make sure there's a lamp and alarm clock on the bedside table. You could even leave out a few Scandi snacks, such as Pålægschokolade or Smultring.
How are you preparing your home to receive guests? We'd love to hear—let us know on Instagram, Pinterest, Facebook or Twitter!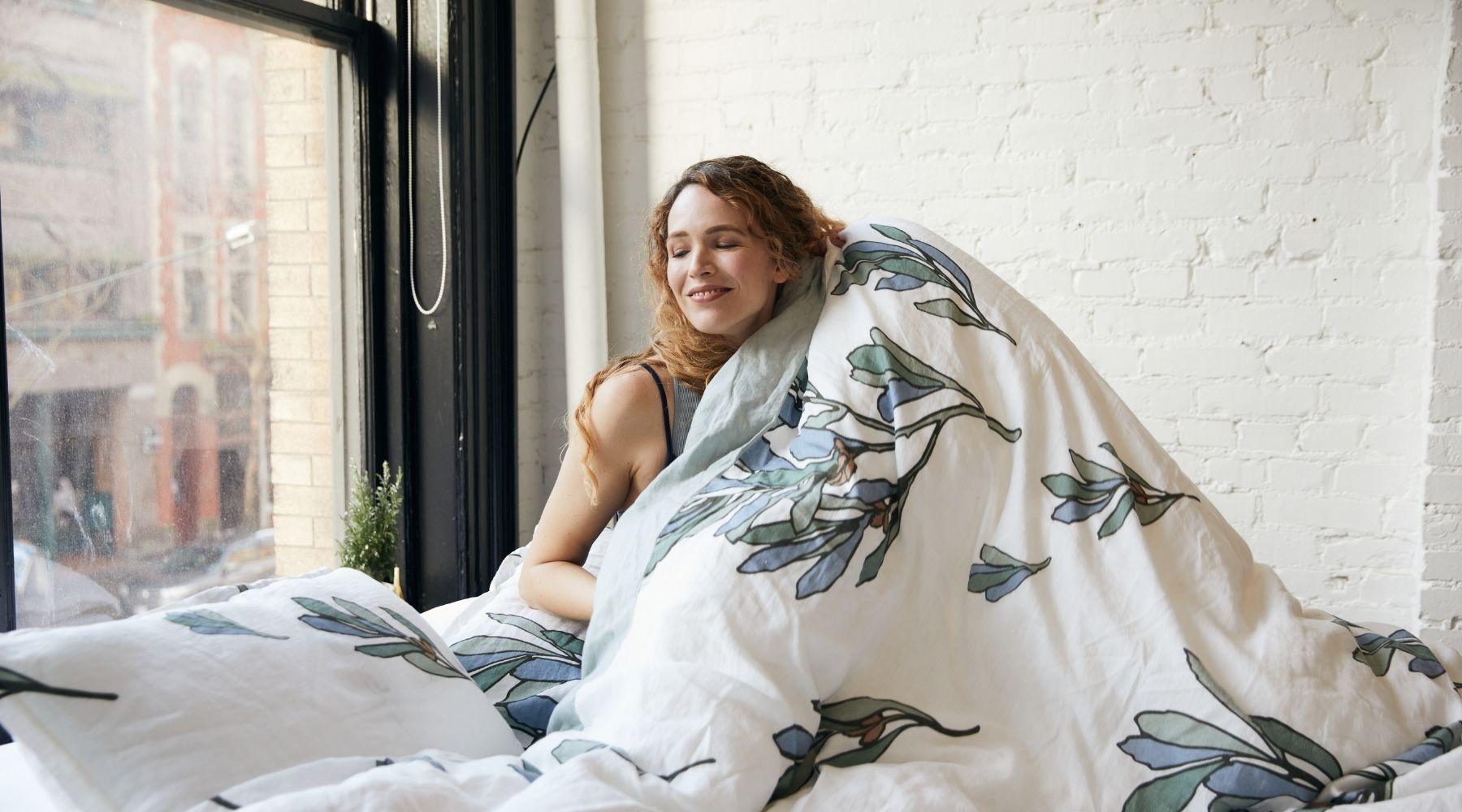 Many people think of linen as being rough and scratchy. In fact, quality organic linen is soft right out of the box—and continues to get softer over time. Dive into the world of organic linen to se...
Read more