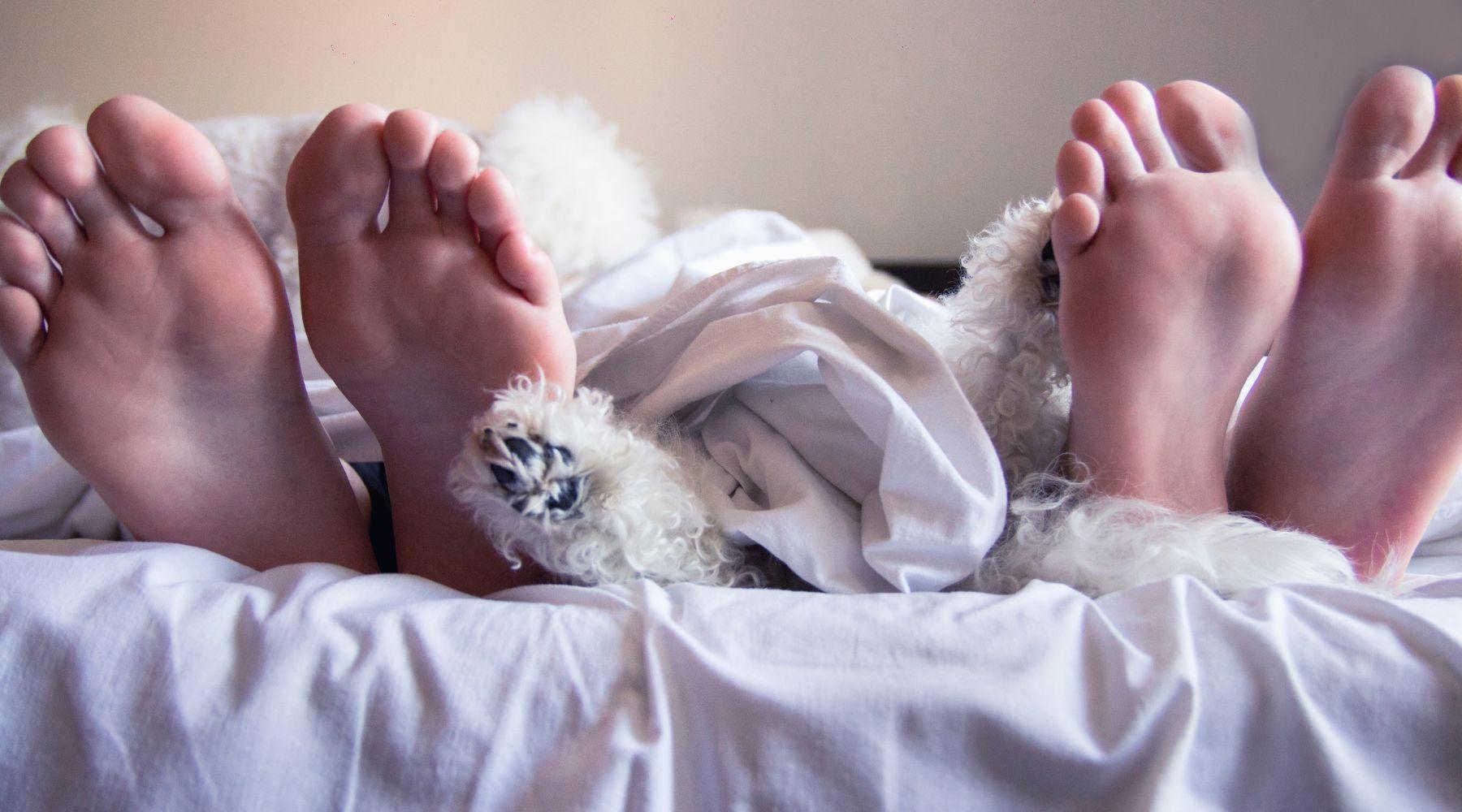 Is Linen Bedding Pet-Friendly?
For those who like to snuggle with their pets in bed, selecting a bedding fabric that suits them (and you!) is key. See why organic linen bedding is perfect for all members of your family, including the furry ones.
A Quick Introduction to Organic European Flax Linen
The linen that goes into our organic linen duvet covers comes from certified European flax grown in France, Belgium, and the Netherlands. Linen is a bast fiber, which means that it comes from the woody inner part of the flax plant and is made of many cells tightly packed together, as opposed to cotton which is a single strand of cells. This makes linen very strong and durable. Flax bast is also filled with tiny pores, which makes linen breathable—air moves freely through the fabric.
Linen Keeps You Cool
Sharing a bed with your furry friends can get warm—luckily, linen's porousness allows heat and moisture to escape, meaning you and your pet will stay cool and dry. On very cold nights, however, linen's pores trap heat, creating an insulating layer to keep you both feeling cozy. This unique property is called thermoregulation—the ability to keep you cool when it's warm and warm when it's cool.
Linen is also stiffer than other fabrics, due to the thickness of the strands and natural pectin in the fibers. This makes it easier for air to circulate and makes linen less likely to build a static charge, meaning it won't cling to you or your pet at night.
Linen is Soft—and Gets Softer Over Time
A common myth about linen is that it's too scratchy for comfortable sleep. In fact, this is only true of new, unwashed linen, as the pectin makes the fibers stiff. Most of this pectin dissolves during the first wash, however, leaving your linen feeling soft and snuggly—perfect for lazy Sunday mornings spent playing with your pet. Each further wash removes more pectin, meaning that linen gets softer over time.
Long-Lasting Linen
As mentioned above, linen is a bast fiber—the same family of fibers as industrial fabrics such as jute and hemp (but much softer, fortunately!). This makes linen extremely strong and long-lasting—even if you've got a fidgety pet who likes to mess up your bedding. Even with regular use, high-quality organic linen bedding will last for at least three years and can last for decades with proper care. Linen lasts longer than single-celled cotton, which tends to pill and wear over time—even high thread-count cotton is not immune to this (read this interview with our founder to find out why thread count is a poor indicator of fabric quality).
Linen Stays Cleaner for Longer
There's not much we can do if your pet jumps on your bed after a muddy walk in the park—but for invisible allergens and pathogens, we've got you covered. Linen is naturally hypoallergenic and antibacterial; the weave is too tight for dust mites to penetrate, and its breathability prevents mold from growing, meaning both you and furry friend can get the cleanest, soundest sleep possible.
Organic European Linen—Free From Harmful Chemicals
Both you and your pet deserve to sleep on bedding that's free from artificial chemicals that may cause skin irritation or allergic reactions. Even products claiming to be "organic" may, in fact, have had chemicals added later in the production process.
That's why at The Modern Dane, we've had our organic linen bedding certified by OEKO-TEX, an independent testing system for fabric safety. OEKO-TEX tests for chemicals not otherwise covered by existing regulations, such as allergenic disperse dyestuffs and pesticides. Of course, it also covers regulated chemicals such as phthalates and formaldehyde.
Our organic linen duvet covers carry Class 1 OEKO-TEX certification—the highest possible certification level and the only one deemed safe for babies. If it's safe for babies, it's safe for your pet too!
Further Tips for Furry Friends
All this being said, you'll still need to take extra safety steps if your pet snuggles with you in bed every night. Change and wash your bedding regularly—at least once a week, if not more.
Keep your pets clean too! Cats are fastidiously clean but dogs will need regular bathing if your bedding is to stay clean and dry. How often you do this depends, simply, on how muddy they get. And with both cats and dogs, groom them regularly with a pet comb to remove stray hairs and prevent them from getting into your bedding.
Do you like to snuggle with your pets? Let us know—and share photos!—on Instagram, Pinterest, Facebook, or Twitter!