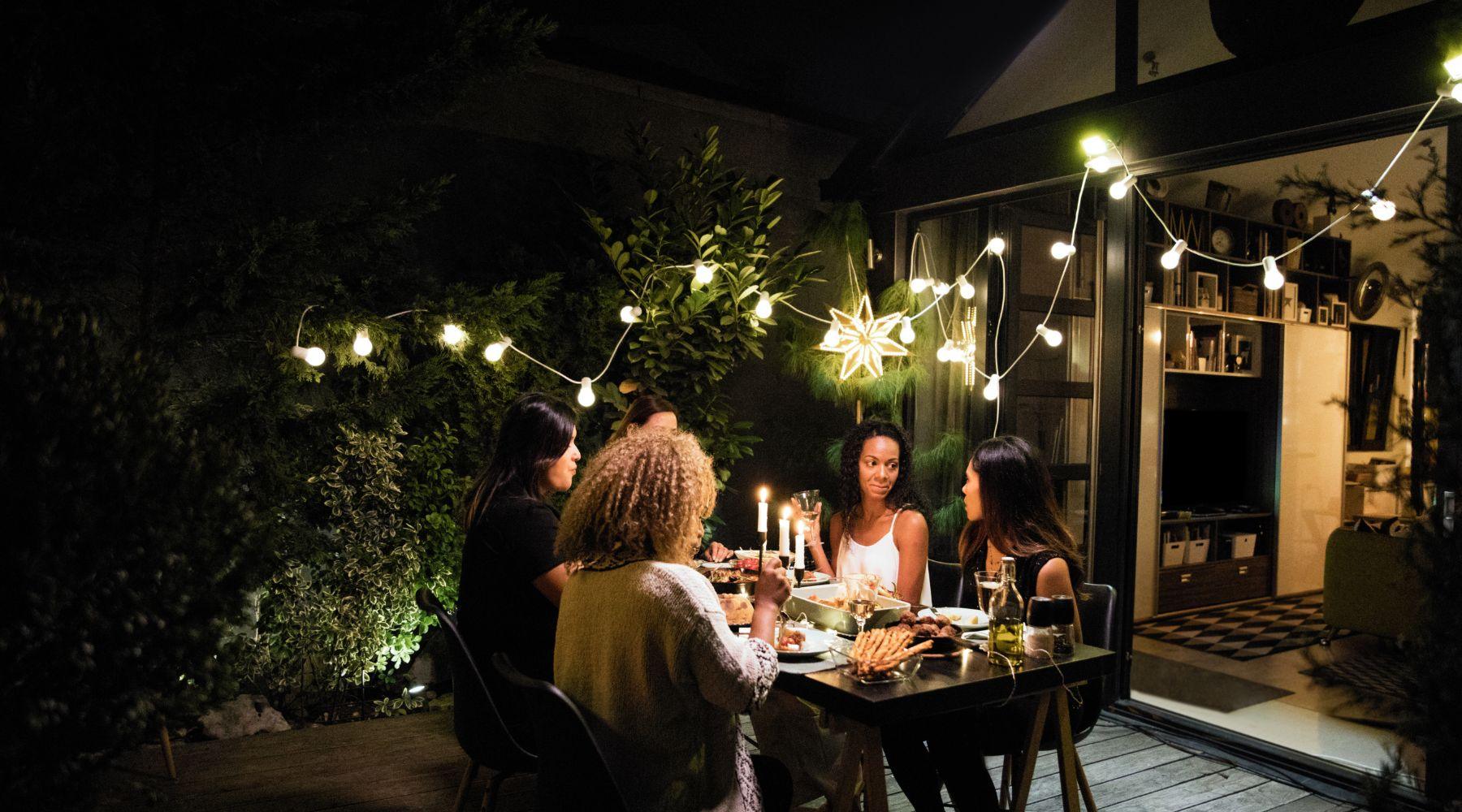 Creating a Scandi-Style Outdoor Space
Whether you have acres or mere feet to work with, Scandinavian design is the ideal aesthetic for your outdoor space. See how to transform your garden into the serene oasis you've always dreamed of.
Scandinavian design was born out of a lack of space—Sweden, Norway, and Denmark have some of the world's smallest homes. The huge homes and expansive gardens we often see in the United States are relatively rare in Nordic countries—instead, people go to a nearby forest or a communal allotment if they want to enjoy nature. That being said, it's easy to adapt Scandi design principles to work for any space—including your garden.
Use the Right Materials
When designing an outdoor space, use the same Scandinavian principles as when you're designing interiors. That means—you guessed it—natural materials! Seek out light woods such as oak and birch, and tactile natural fabrics. All décor should be clean-lined, minimal, and of a high quality. Even better if it's multifunctional—for example, a coffee table with storage space for blankets and other outdoor items.
You can't just move your indoor furniture outdoors, however—outdoor furniture is exposed to the elements, so you need to consider how to protect it from wear. Wood should be coated with a waterproof (matt) varnish; you can also get proofing spray to protect fabrics. The fabrics you choose should be tough and long-wearing; linen is a perfect example, as it's a bast fiber—the same family of fibers as jute and hemp (you can buy our durable-yet-soft organic linen bedding in our shop).
Although Scandinavian design usually calls for light materials, you might want to make an exception here; dirt shows on light colors, making them less suitable for outdoor spaces. If you still want the Scandi vibe, go for grey or for colors found in nature, such as sea blue or olive green. Check out our solid-color Scandinavian design duvet covers for inspiration.
Make it Sociable
If you're lucky enough to both have a garden and live in a warm climate, the garden should be the focal point when socializing at home. A garden can be used for hygge activities such as barbecues and card games—but only if it's laid out properly.
Let's start with the obvious—there should be enough chairs for everyone, and they should face each other. Leave 20 to 25 inches between chairs to allow people to move around freely.
Coffee tables should normally be the same height as the seat but in this case you may want to go around 4 inches higher—a bit more height makes it easier for people to eat and play games without having to bend over too much.
In total, your patio set should fit into a circle around 120 inches wide—any more than that and you'll be shouting so that others can hear.
Think about heat sources, too—if you have the space and budget, an outdoor fire pit or stove can be very hygge indeed.
Create Cozy Nooks
In his book "My Hygge Home," Danish happiness expert Meik Wiking says that a big, open lawn is "not very hygge." But a properly organized garden, he says, is like an old European city: "If you can see a mile ahead what is coming, it is less interesting to walk around than it would be in the crooked streets you find in European town centers from medieval times. The curvy streets hold promises of a new discovery around every corner." Kids will love this, too—a garden with plenty of places to hide is the perfect garden for play.
According to Wiking, there are several ways you can divide your space, depending on the size of your garden and your budget. These include permanent options—like building walls and planting trees or hedges—and less permanent ones, such as putting up a trellis or pergola. If you have a terrace with tables and chairs, Wiking recommends surrounding them with pot plants "to give the sensation of a protected space."
Get the Lighting Right
Once you've got your perfect hygge layout, with the right balance between coziness and sociability, it's time to set up your lighting. Scandi lighting should always be warm and neutral-toned—put those multicolored Christmas lights away! Regular fairy lights, though, make a space look warm and inviting, and come in battery-powered versions if there's no power source nearby.
Battery-powered table lights are becoming more popular in restaurants across Europe, and they can make an impact in your outdoor space, too. Use them liberally around plants and on tables.
If you have access to a power source (and can keep everything dry!), your options increase considerably. Put up a pergola and hang filament-style bulbs for a Copenhagen café vibe; layer on floor lighting for depth.
Remember, too, that you've always got that hygge favorite to fall back on: candles. Use basic white jar candles or make a centerpiece with a bowl of water and some tealights.
Grow Your Own
Picking fresh carrots from the garden. Photographed on a small organic farm on the island of Møn in Denmark.
Few things are more hygge than a home-cooked meal—except a home-cooked meal made from vegetables you've grown yourself.
Just outside Copenhagen are kolonihaver: allotment communities surrounded by tiny wooden homes. City-dwelling Danes head here during the summer, taking a break from their busy urban lives to spend hours planting and digging. Meik Wiking describes them as "a hygge smoothie of slow and simple outdoor living."
Whether you have several acres or just a window box, you too can experience the joy of growing your own food. What you grow will depend on your local climate, but the most hygge foods are the ones that can be preserved and enjoyed throughout winter. Think jam fruits—lemons, oranges and berries—or vegetables that can be pickled, such as beetroots and cucumbers.
After a day of tending to your plot, you'll need a good night's rest. Check out our collection of Scandinavian design duvet covers and make bedtime a little more hyggeligt.
What are your favorite summer activities? How are you decorating your outdoor space? Let us know on Instagram, Pinterest, Facebook, or Twitter!