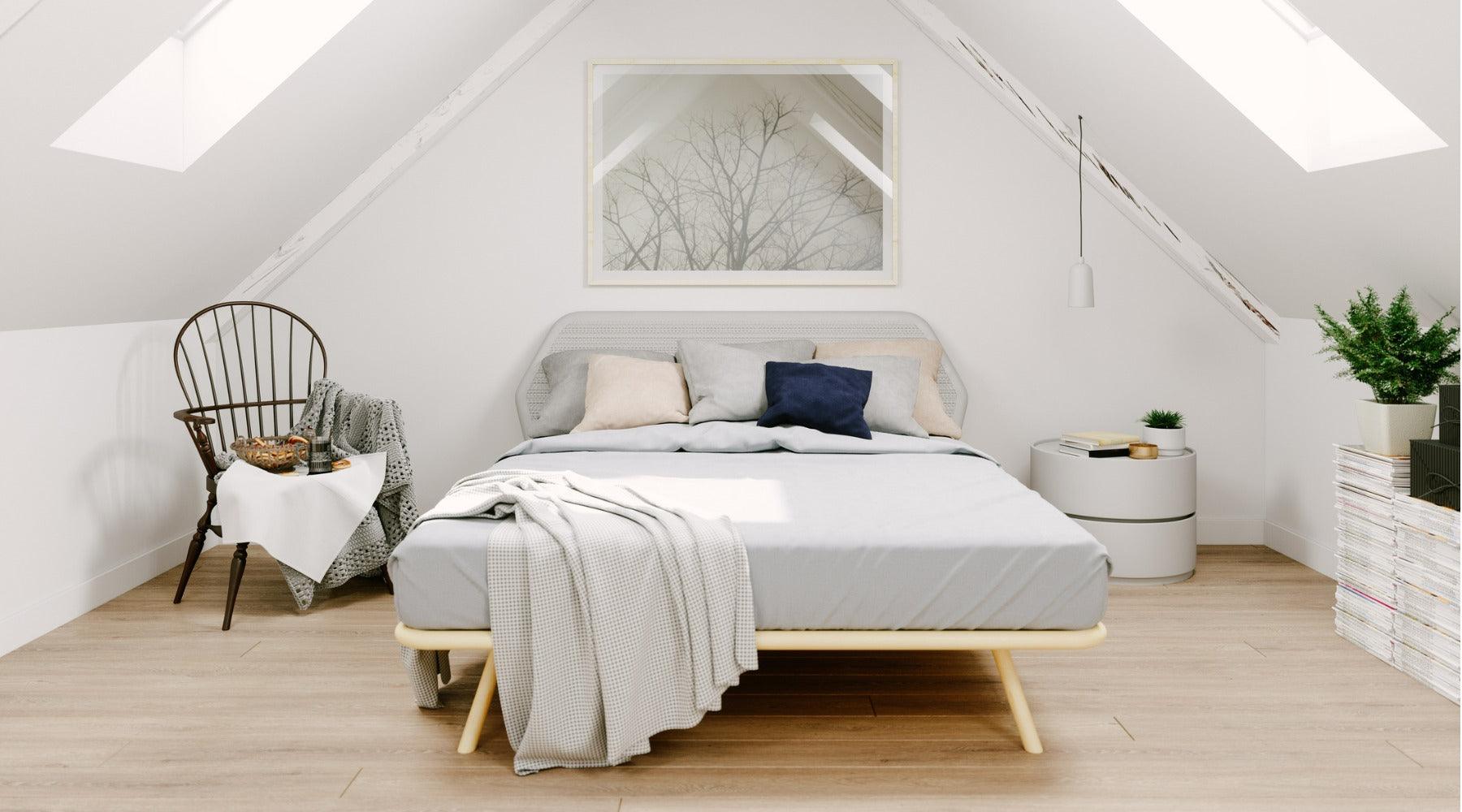 Scandinavian Design: Creating Balance in the Bedroom
Balance is essential to the Scandinavian lifestyle—between work and play, indoors and outdoors, socializing, and alone time. The Swedes even have a word for it—lagom, the art of "not too little, not too much." This philosophy is well represented in Scandinavian design, which balances clean lines with comfort, and places practicality above all. In other words, it's perfect for the bedroom, where a calm environment is more important than in any other room in the home.
Clear Out the Clutter
Scandinavian design is a close cousin to minimalism, as both stress the importance of having no more than you need. Yet we can't do away with everything, and the bedroom is often home to some necessities, like clothes and books—having a place where these items go is a must. If you prefer to keep a lot of clothes, keep them out of sight to reduce visual noise. If you're a reader, choose a nightstand with built-in storage to avoid unwanted clutter accumulating on top.
Many bedroom images on social media feature beds covered in scatter cushions but resist the temptation—they'll likely end up on the floor come night time. For true Scandi serenity, use a duvet in an organic linen duvet cover. With our beautiful European bedding, you won't need anything else.
The Science of a Balanced Bedroom
A balanced bedroom is one that's easy to move around. There's nothing relaxing about squeezing past the wall to get into bed, or having to stretch to turn on the bedside light. Fortunately, institutions such as Sweden's Hemmens Forskningsinstitut (Home Research Institute) have come up with ergonomic standards to take the guesswork out of interior design.
Position your bed so that there is at least 30 inches between the edge and the nearest wall, and make sure that there is enough clearance for wardrobe doors to open cleanly. Bedside tables should be around 4 inches higher than the surface of the mattress. To position a wall-mounted reading lamp, measure 8 inches out from the bed, then 24 inches up from that point. For ceiling lights, the minimum height is usually 80 inches but if it's over your bed, you can get away with hanging it lower, as you won't be standing in bed.
Using Symmetry in the Bedroom
Symmetry is an important feature of the Scandinavian designer's toolkit: use it to create calm and balance, even in awkward spaces. In most homes, the bedroom is naturally the most symmetrical space: the bed forms the center, on which there are usually two identical pillows, with a nightstand and table lamp on either side. Further enhance this by adding pot plants and rugs on either side, too.
You can also use symmetry's opposite—asymmetry—to create a more relaxed feel in spaces that feel too formal or clinical. For example, use mismatched nightstands, or cover your bed in Nordic-style bedding with an asymmetrical print, like some of our European duvet covers.
Putting Awkward Spaces in Proportion
The most common issues when designing a bedroom are problems of scale: the space is too large or too small, or the ceiling is too low or high. You may also have awkward architecture, like a sloped ceiling. Resolve this issue, and problems of scale, by using symmetry to create the illusion of balance, as explained above.
Check out our Scandinavian Design for Small Spaces blog post to get the lowdown on decorating small rooms. In short: stick with light colors and white, Scandinavian-style duvet covers, use mirrors to bounce light around, cut back on clutter, and use multipurpose furniture that makes the most of vertical space.
For large spaces, simply reverse the small space rules: think dark colors and large, chunky furniture. Mid-century furniture has a solidity that feels appropriate to a larger space, and is usually painted with a dark red stain. Browse your local antique store for pieces from the 1950s—you may even stumble upon a Danish classic!
Bedrooms with high ceilings can feel bottom-heavy, as most of the "visual weight" —the sense of heaviness that furniture creates—is near the floor. Counteract this by using the entire height of the room. Fix a shelf over the bed on which you can place trailing plants, or create a gallery wall that goes right up to the ceiling. Stick with a muted color palette to maintain the Scandi look. A large ceiling pendant light (see below) will bring tall walls into proportion.
Creating Calm with Clever Lighting
Every Dane knows the importance of good lighting—it's integral to creating a cozy, hygge vibe. Many of the world's most famous lights were designed by Danes such as Poul Henningsen, Verner Panton, and Simon Karkov. Outside of Denmark, however, many people will hang a single cold, white bulb from the ceiling and call it a day. It does nothing to promote relaxation, not to mention the harsh shadows created by a single light source.
There's a popular saying in Sweden: "fish, fowl, and somewhere in between." To create balance, you'll need a mixture of high, low, and mid-level lighting—between five and seven lights in total. Think creatively—don't restrict yourself to bedside lamps and a ceiling light. Your "fish" could be a cute, Japandi-style floor light; your "fowl" could be a canopy of twinkling fairy lights. The "something in between" category is particularly broad: opt for a beautiful wall sconce, a pendant light in the window, or even an illuminated artwork. And don't forget, candles are lighting too!
Pick lampshades carefully—Danish designers favor semi-opaque glass, linen, and white plastics, materials best for creating a soft, diffused light in the bedroom. Regarding color temperature, stick with anything below 3,000K; 2,700K is the standard for most "warm white" bulbs today. Avoid a gap of more than 1,000K between any two individual lights.
Organic linen bedding, with its relaxed, lightly textured look, is the perfect complement to beautiful Danish lighting. We've got you covered with our range of Scandi duvet covers—check them out in the shop.
Which of these tips will you be putting into practice? How have you created balance in your home? Let us know on Instagram, Pinterest, Facebook, or Twitter!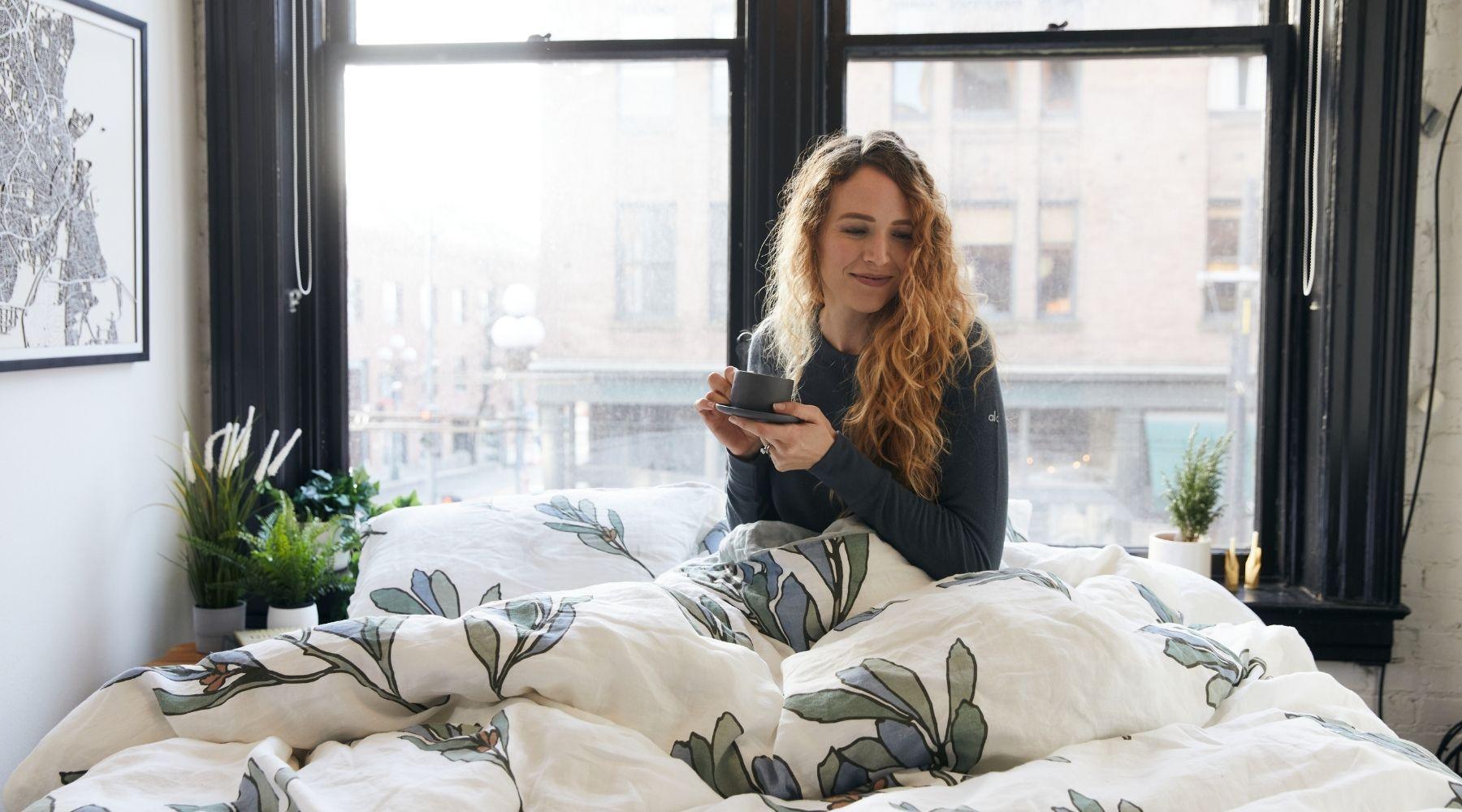 What sets European bedding apart from bedding found elsewhere, and will its style work in your bedroom? Find out.
Read more