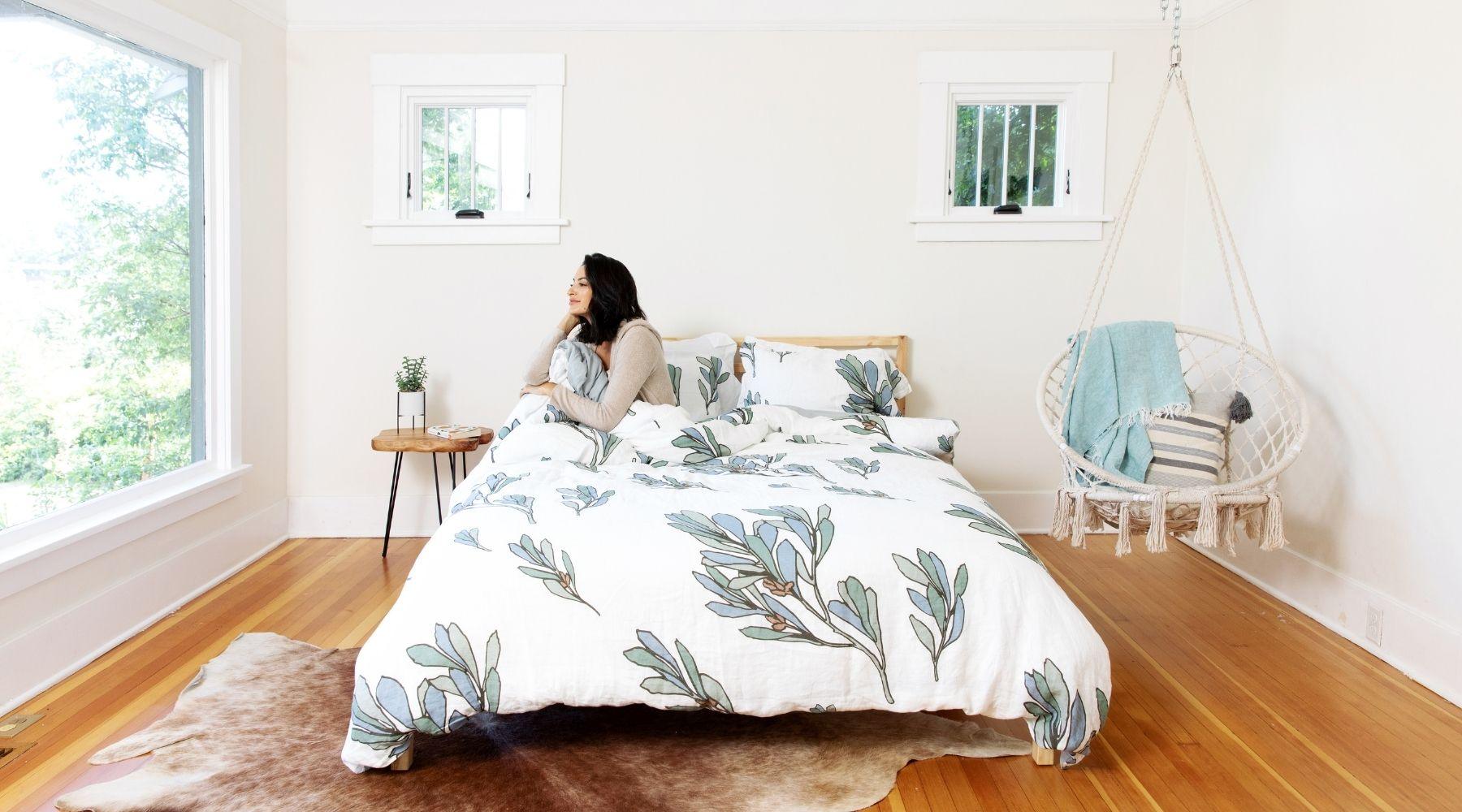 How Linen Bedding Can Transform Your Bedroom
Bedding is more than just blankets and sheets; it's an investment in your wellbeing. Beyond the obvious benefit—a better night's sleep leading to better health overall—a linen duvet set improves your bedroom in many other ways. This one simple change is the starting point for a range of other improvements in your life—fewer allergies, a better place to relax, and a bedroom that simply looks fantastic.
Change Your Sheets, Upgrade Your Space
On Apartment Therapy, Ashley Abramson calls linen sheets "the fine jewelry of bedding." It's a great metaphor for how we feel linen sheets transform a room. Gone is the uniformity of factory-line polycotton, replaced with the unique texture of natural flax. We emphasize, however, that "fine" does not mean showy or flashy—rather, our sheets carry the hallmarks of quality, durability and elegant simplicity that are central to the Scandinavian design philosophy. 
At The Modern Dane, we use the best French, Belgian and Dutch flax for our linen duvet covers, which are stitched by craftspeople in the Portuguese town of Guimarães. All our covers meet the stringent social criteria of the Global Organic Textile Standard (GOTS), which stipulate fair hours, living wages, and regular employment for workers throughout the entire supply chain. You'll also sleep easy knowing exactly where your linen came from.
A More Comfortable Night
A common misconception about linen is that it's rougher than cotton, but the reality is more nuanced than that. While cotton starts out soft, it tends to degrade and pill over time. Linen is the opposite—it gets softer and softer with every wash. Why? Washing dissolves pectin, a naturally occurring substance in linen that binds the fibers together, making fabric softer and more luxurious with every wash. And since all our products are garment washed before they even get to you, you'll feel that softness as soon as you pull our linens out of the box. Want to feel the difference? Order one of our fabric swatches to test out that ultra soft linen fabric.
Whether you're a hot or cool sleeper, linen has year-round appeal. In the summer, linen's porousness keeps you cool and dry by wicking moisture away. In winter, linen's natural heft comes into play—the weight of the fabric settles around your body, keeping you insulated all night.
In addition, linen's hypoallergenic qualities make it a blessing to those who suffer from skin conditions such as psoriasis or eczema. Because it's made from natural fibers instead of synthetic fibers, linen has long been seen as a better option for people with sensitive skin—the ancient Egyptians even used it!
What's more, our organic linen duvets are Standard 100 certified by OEKO-TEX, the independent testing and certification system for textile products. This ensures that your sheets are free from harmful chemicals such as phthalates, heavy metals, pesticides and formaldehyde.
Any Color You Like
A popular belief about linen—bolstered by images on social media—is that linen sheets equal boring colors. It doesn't have to be this way! Many linens you'll see are simply dyed solid colors. We wanted to do more. By printing on our linens, we're combining the quality of linen with beautiful, modern Scandinavian design. Look no further than our gorgeous linen duvet covers printed with patterns in lilac, ruby and olive green. If you're struggling to design your bedroom, use our designs as a jumping-off point. Complement our Porse linen duvet set with a teal ceramic candle holder or heathered periwinkle rug; Blålig's lilac and berry tones go well with green foliage or ochre artwork picked from the other side of the color wheel.
More Time for You 
Say goodbye to crumpled cotton. You have better things to do than waste hours ironing sheets, which is why ours don't need to be ironed at all. In fact, linen's subtle natural creasing is a major part of its appeal. "[They're] perfectly rumpled and textured and wrinkled," writes Catrin Morris on Apartment Therapy. "Not messy wrinkled; sumptuously wrinkled." Linen sheets also repel dust, dirt, and lint, so they stay cleaner for longer. And the inside corner ties prevent your duvet from moving around inside, meaning you won't get frustrated at shifting sheets. Spend less time maintaining your sheets and more time enjoying them—you can't get more hygge than that.
Relax in Scandinavian Style
Speaking of hygge, there's something about linen sheets that evokes this quintessentially Scandinavian quality better than cotton ever could. Hygge roughly translates to "coziness," yet it's far more than that. "What freedom is to Americans… hygge is to Danes," says Meik Wiking in his bestselling book, The Little Book of Hygge. Hygge is the glow of candlelight, a mug of mulled wine, time spent snuggling with a loved one. The touchable texture of a hand-sewn Scandinavian duvet cover is all you need to complete the picture.
Despite hygge's typical associations with warmth and the indoors, time spent outdoors is an indispensable element of the hygge life. "What is distinctively Nordic is the freedom to roam in nature at any time of year, a right that is considered sacrosanct across the region," writes Signe Johansen in his book How to Hygge: Nordic Secrets to a Happy Life. Once you've spent time walking in the park or the woods, bring nature indoors with our printed linen duvet covers. Our Agern duvet is printed with the rich green leaves of the Kongeegen or King Oak, Denmark's oldest and most venerable tree believed to be almost 2,000 years old. And our Kørvel set is inspired by the delicate white chervil flowers that grow at the edge of forest paths, heralding the coming of spring.
Finally, Scandinavian interior design is about a return to simplicity—of having no more than you need. We simplify bedding, sleeping with nothing more than a duvet—no throw pillows, quilts or top sheets to become tangled in at night, or to extract when you make your bed in the morning. Our detailed, modern duvet covers look and feel best when left alone.
Have we convinced you to make the switch to linen bedding? Shop our organic linen duvet covers here and don't forget to get in touch on Instagram, Pinterest, Facebook, or Twitter to let us know what changes you're making to transform your bedroom in time for cozy winter nights.