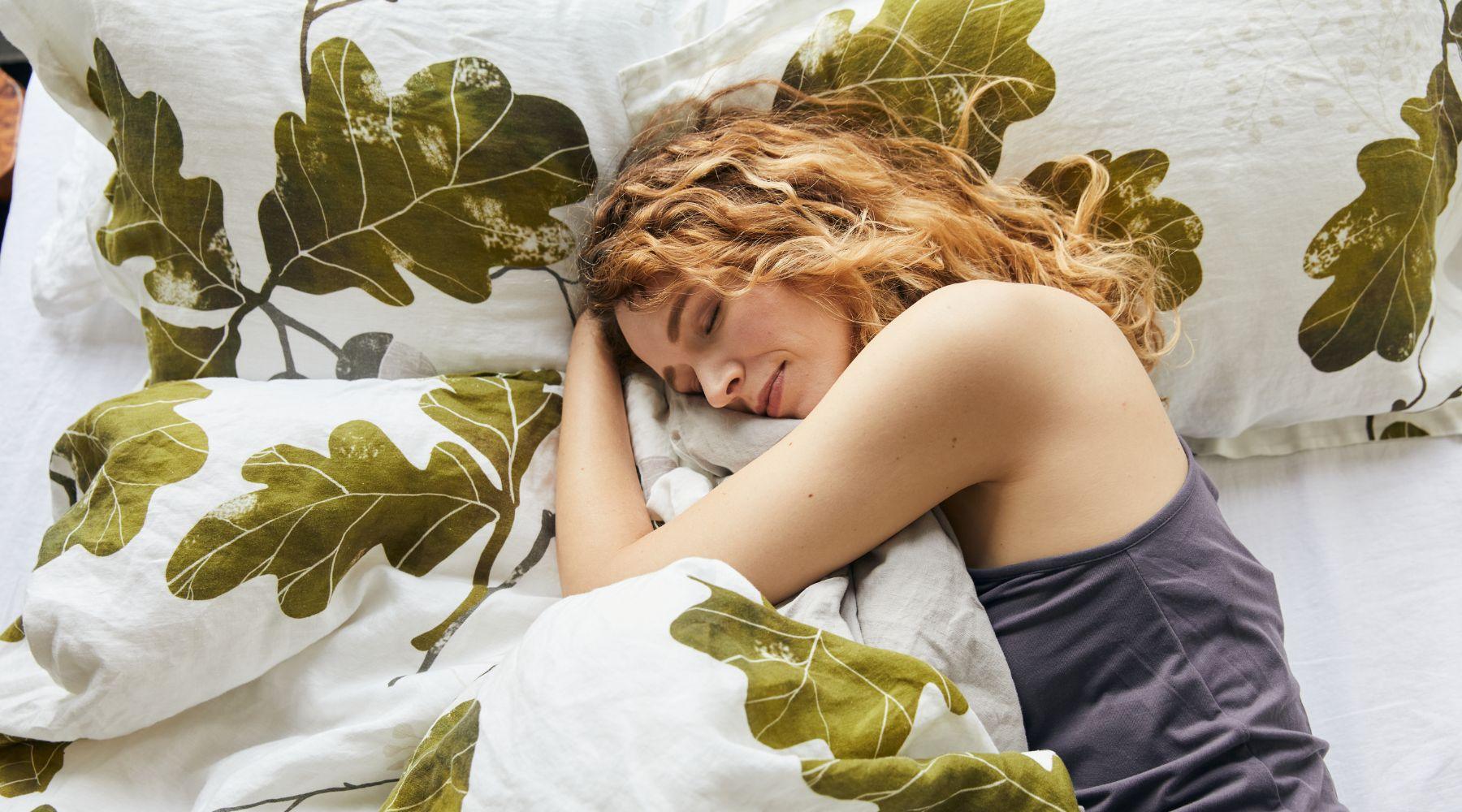 What is the Best Bedding for Hot Sleepers?
Summer is nearly upon us which, for some, means restless nights, tossing and turning in the heat. Be prepared for those warm summer nights—see what the best bedding is for those who run hot.
Comparing Different Duvet Cover Materials for Hot Sleepers
Polyester
Bedding made from polyester or a polyester blend—polycotton, for example—tend to be unsuitable for hot sleepers. As an artificial material made from plastics, polyester isn't as breathable as natural materials. Polyester bedding will trap warm air and moisture next to your body, resulting in a hot and uncomfortable night. It also has environmental consequences, as repeated washing sheds microplastics into water systems that eventually lead to oceans, causing harm to marine life.
Each year, 100 billion gallons of water is used for cotton growth globally.
Cotton
As a natural material, cotton fares better in the breathability and heat conductivity stakes. It's not that durable, however—cotton strands are only one cell thick, so they may not stand up to the long-term demands of summer sleeping. Cotton bedding also tends to stay damp once wet, rather than wicking moisture away.
Buying cotton—even organic cotton—also carries major ethical implications. It's a notoriously water-hungry crop, requiring 2,220 gallons to produce just one kilo of cotton fabric. The cotton industry has decimated entire ecosystems and communities—such as the Aral Sea in central Asia, which dried up entirely as the result of Soviet cotton farming.
Wool and Silk
Like cotton and linen, wool and silk are both natural materials that allow some heat and moisture to escape. However, neither are as effective as linen (see below), which has a heat conductivity five times higher than wool and 18 times higher than silk.
Wool and silk have a significant impact on the environment—and, of course, neither is suitable for vegans. Wool production is highly polluting, involving woolen mills that belch carbon dioxide into the atmosphere. Silk production is also fossil-fuel-heavy and has been implicated in unethical bonded child labor practices in India.
Linen
It's one of the fabrics most associated with hot weather—so you won't be surprised to learn that linen is one of the best fabrics for hot sleepers. We're biased, of course—but the science backs us up.
European Flax—the plant from which our organic linen duvet covers are made—is naturally porous. This means that it's full of tiny holes, which wick moisture away from the skin. Air can move through freely, keeping you feeling cool and dry all night.
This porousness also makes linen extremely absorbent: in fact, linen can absorb up to 20% of its weight in moisture before it begins to feel damp.
Linen fabric tends to be stiff due to pectin and lignin, both naturally occurring substances in flax. This means that rather than clinging to your skin, it sits loosely over your body, allowing air to circulate.
Best of all, you can buy your organic linen duvet covers guilt-free, as linen is both environmentally friendly and ethical. Flax fields are natural carbon sinks, which trap more carbon than is created during the linen production process; linen, therefore, is a net carbon-negative textile.
And if you order your organic linen bedding through The Modern Dane, we'll offset your shipping emissions. Our Scandi-style duvet covers are certified by GOTS (The Global Organic Textile Standard): this means that everyone involved in their production is treated fairly, in line with reasonable working practices.
What is the Best Duvet for Hot Sleepers?
Now you've got your perfect duvet covers, it's time to pair them with a duvet. But which filling to go for?
Ethically sourced goose down is generally considered to be the best all-weather duvet filling: the fluffy down clusters give the duvet natural loft that allows air to circulate, without the spikiness of feathers. It can be expensive—especially if you plump for the recommended fill power of 600 or higher—but recycled down duvets are becoming increasingly popular and tend to be cheaper.
The main drawback of down is that some people are allergic to it, so it may not be appropriate for you or your guests. It's also high maintenance, as it requires regular fluffing up and must be cleaned by a specialist. Of course, it's also not vegan.
If any of those apply to you, don't fret: down alternatives have come a long way in recent years, with some incorporating microfiber technology originally developed for NASA space missions. Although these duvets tend to be made from plastic-based materials, high-quality ones last for a long time and come in recycled versions.
Whatever duvet filling you go for, be sure to pick a duvet thickness appropriate to the weather. A tog 4.5 rating is appropriate for temperate climates; go lower if you're closer to the tropics.
What are your duvet covers made from? Do you have any tips for dealing with high temperatures at night? Let us know on Instagram, Pinterest, Facebook, or Twitter!