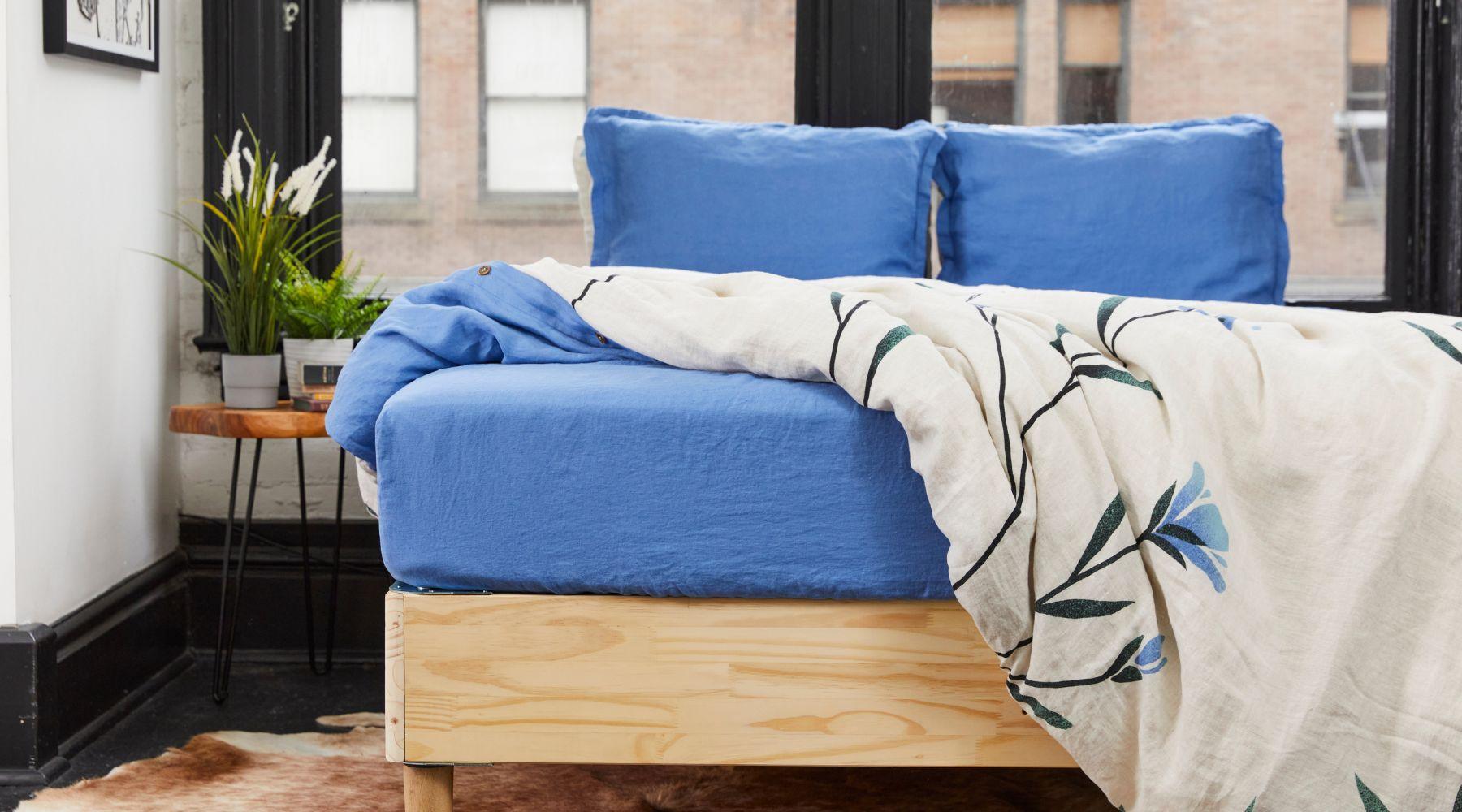 How Long Does Linen Bedding Last?
High-quality bedding, like our organic European linen, can last for years. We've already written about how linen bedding lasts far longer than cotton: the fibers are thicker, so linen is less prone to pilling and tearing. Linen can be a serious investment, however, so it's understandable that the question on most shoppers' minds is, "How long will this linen bedding last?" The answer? Could be years—or even decades.
Too vague? That's because the durability of linen is influenced by many factors—which we'll break down for you here.
How Strong Is Your Linen?
Linen fibers come from the bast—the tough inner stem—of the flax plant. Harvesting flax early results in a thin, fine fiber, whereas harvesting later results in a thick, coarse fiber.
Photo credit: The European Confederation of Flax and Hemp (CELC)
Thus, linen bedding must strike a balance between softness and durability—thicker fibers will last much longer but the roughness would be off-putting to most consumers. All linen sheets soften over time, as washing dissolves residual pectin in the fiber—but with rougher linen, it may take a year or more for your bedding to become acceptably soft. In comparison, finer linen feels softer out of the box but at the expense of durability—it may initially seem of a higher quality but will quickly develop holes and tears.
The best way to test drive linen before purchasing bedding is to order swatches, which most linen brands supply. We recommend ordering several to see how thick and soft they are. Order The Modern Dane fabric swatches here to get a true feel for our organic linen bedding—the perfect mix, we believe, of softness and durability.
At The Modern Dane, we use organic European linen made from flax grown in Belgium, France, and the Netherlands. Our organic linen bedding is OEKO-TEX certified, meaning it's made without harmful chemicals and with a skin-safe pH. We also garment-wash our organic linen bedding to kickstart the softening process before it gets to you.
Why Does Vintage Linen Last So Long?
We've mentioned that some European families pass linen bedding down through generations as heirlooms; a search for vintage linen bedding will take you to New York-based antique bedding dealer Fleur d'Andeol, where you'll find duvet covers dating back to the mid-19th century. These duvet covers are made from Fil de Lin linen from the Fil au Chinois brand, founded in Lille, France in 1847 by Francois-Philibert Vrau. Fil de Lin yarn is "cabled," meaning that the threads are twisted once, then assembled and twisted a second time. This makes the linen exceptionally strong.
Fil de Lin fell out of fashion with the arrival of domestic sewing machines, which couldn't handle the thicker thread. A string of bad business decisions contributed to Fin au Chinois' decline; the company would have vanished altogether if not for two French industrialists, Olivier and Bruno Toulemonde, who bought the brand in 2007 and now sell Fil de Lin thread online in small quantities—ideal for leatherworkers but prohibitively expensive for bedding production. So while we expect our linen to last for years if cared for properly, don't expect it to last the 150-plus years of vintage, Fil de Lin linen!
Where Is It On Your Bed?
Duvet covers, pillowcases, fitted sheets: the different components of a bedding set all have different lifetimes, depending on how close they are to your body. Pillowcases and fitted sheets bear more weight and absorb more oil and sweat—and thus have greater wear and tear over time. Duvet covers should last longer, as they don't bear the weight of the body.
It's important that your chosen brand sells individual bedding components so that you don't need to buy a whole new set when one wears out. The Modern Dane shop sells duvet covers, pillowcases, and fitted sheets separately, so you can replace them as you need to.
When should you replace your organic linen bedding? Simple: when you see or feel visible signs of wear, such as thin patches or holes. Some blogs suggest replacing your bedding every year—but these are usually the blogs of bedding companies, which exist to sell more duvet covers and are likely using cotton or low-quality linen. Ignore them and trust your senses instead.
How Are You Washing It?
How you wash linen has a significant impact on its lifespan. Avoid bleach and fabric softeners, which cause the fibers to become brittle; hot temperatures will also damage linen over time, so use a low setting on your washer. Wash your bedding on its own—without other clothes—and close fastenings to prevent snagging or tears. Avoid the tumble tryer altogether and air dry when possible to help your bedding last even longer.
How long have you had your bedding? Would you make the switch to linen? Let us know on Instagram, Pinterest, Facebook, or Twitter!