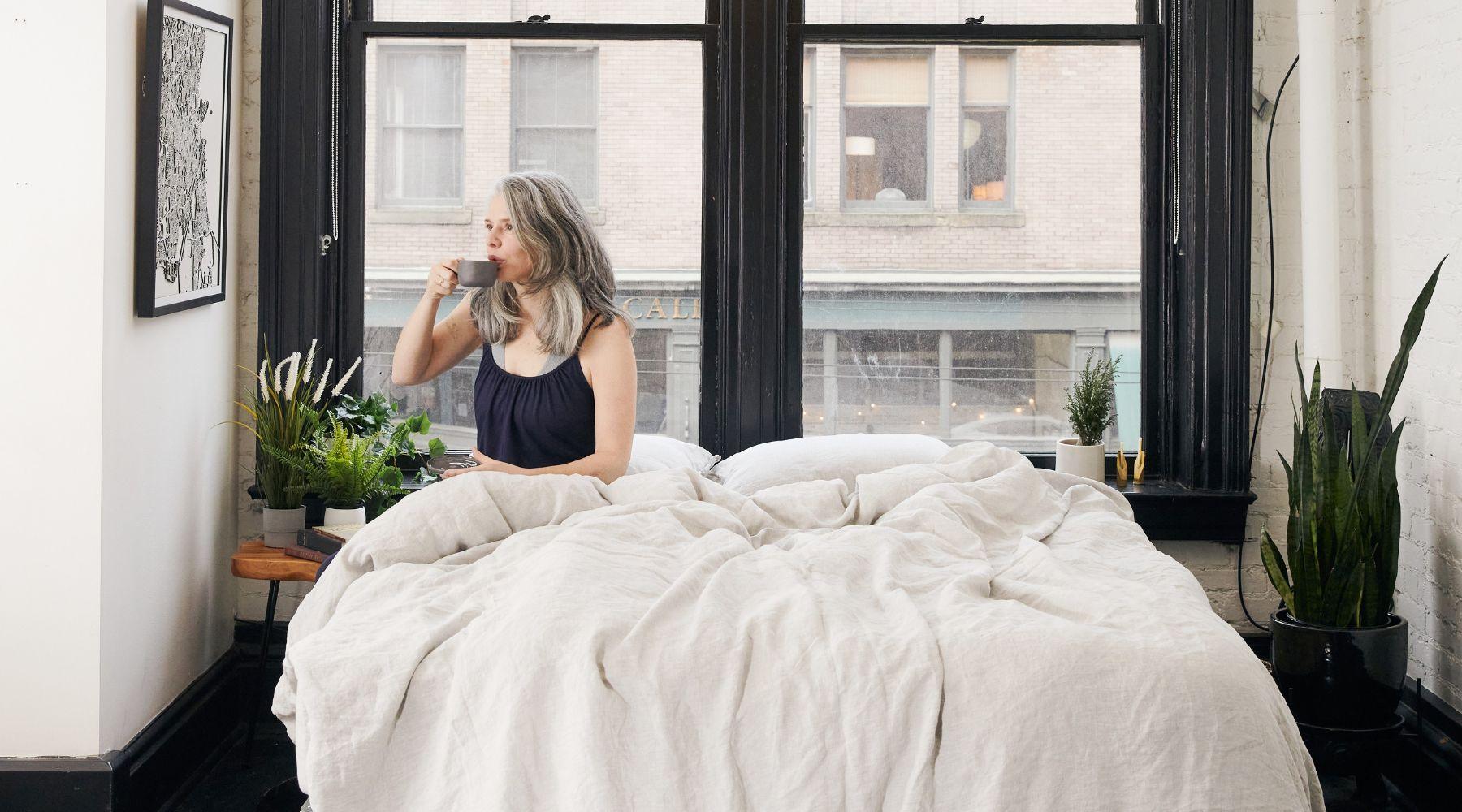 How Organic European Linen Became the Fabric of the Moment
Formerly seen as dowdy and old-fashioned, linen has had a renaissance. Here, we look into the drivers behind this trend: the photogenic look that makes linen the darling of social media, the physical properties that appeal to the health-conscious, and the sustainability credentials that make it the textile of the future.
Hasn't Linen Always Been in Fashion?
Sadly, it hasn't—though only during the past century. Linen is the world's oldest textile, prized by the Ancient Egyptians, the Greeks, and the Romans. It was used extensively for clothing and art throughout the Medieval and Renaissance periods, and only went into decline with the advent of the Industrial Revolution, when manufacturers deemed cotton cheaper and easier to mass produce.
However, linen was still a popular fabric of utility, and its strength and durability saw it used extensively during the First and Second World Wars. It had a resurgence in the 1990s but primarily among elderly holidaymakers, who donned linen tops and trousers while on vacation--linen's thermoregulating properties kept them cool in the summer heat. To the masses, linen was seen as practical but not particularly fashionable.
Now, however, linen is everywhere, from your social media feed to the runway. In 2019, the global fashion search platform Lyst reported a 46% increase in searches for linen on the previous year. The Spring/Summer 2021 reveal of major fashion brands such as Dior and Fendi saw a 102% increase in the use of linen.
The Look of Linen
Linen isn't flat or smooth—it's an all-natural, organic material with a pleasing irregularity that's easy on the eye. It's telling that the increased popularity of linen products has coincided with the rise of photo-heavy social media platforms such as Instagram and Pinterest. Linen's rugged, touchable texture photographs well—not just as clothing but as bedding too. We've all seen those #morningroutine shots on Instagram—a book, a cup of coffee, and a smoothie bowl atop artfully rumpled linen duvet covers. In fact, we've got a few shots on our own Instagram, where you can see how our organic linen duvet covers look in real homes.
During the lockdowns of 2020-2021, so many of us swapped crisp cotton shirts and suits for baggy sweatpants and t-shirts. And even though we may be back in the office now, the dress codes have changed and employees are demanding more comfort from their workwear. Linen is perfect for "smart-casual" office clothing—linen suits and dresses have a relaxed look that takes you from the office to the bar without looking like you've stepped out in your work clothes.
Good on You, Good for the Planet
The school strikes initiated by Swedish teenager Greta Thunberg sparked a chain reaction that changed the world. Climate change, previously a political football, shot to the top of government agendas.
Linen is ideal for our climate-aware times. It's a carbon-negative fabric: European flax fields act as a carbon sink, capturing 276,000 tons of carbon dioxide every year.
As well as becoming more aware of climate change, we've become mindful of what we throw away. We know that what we discard doesn't simply disappear: it ends up in landfill, in carbon-belching incineration plants, in our oceans, or even in developing countries.
Linen is a zero-waste textile that uses every part of the flax plant—what isn't used in textile production goes back into the ground as fertilizer. Though it's more expensive than cotton or polyester, linen lasts many times longer, eliminating the constant need to consume and discard. And when your linen products finally do wear out, you can discard them responsibly—all organic linen is 100% biodegradable.
Linen Bedding: Part of a Holistic Approach to Health
The collective health kick of the last few years has given rise to smart devices that monitor every aspect of our health—our heart rate, our hydration levels and, of course, our sleep. This granular approach to sleep hygiene has led many people to reevaluate their sleep environment, including their bedding.
Soft, strong organic linen bedding is conducive to better sleep. Too-high or too-low temperatures are a leading cause of disordered sleep but with its natural porousness, linen is thermoregulating—it cools you down when you're warm and warms you up when you're cool. Our Danish-style bedding is also GOTS- and OEKO-TEX-certified, meaning every piece in our organic linen bedding collection is free from allergens and harmful chemicals.
Do you own any linen clothing or bedding? Will you be buying more linen in the future? Let us know on Instagram, Pinterest, Facebook, or Twitter!