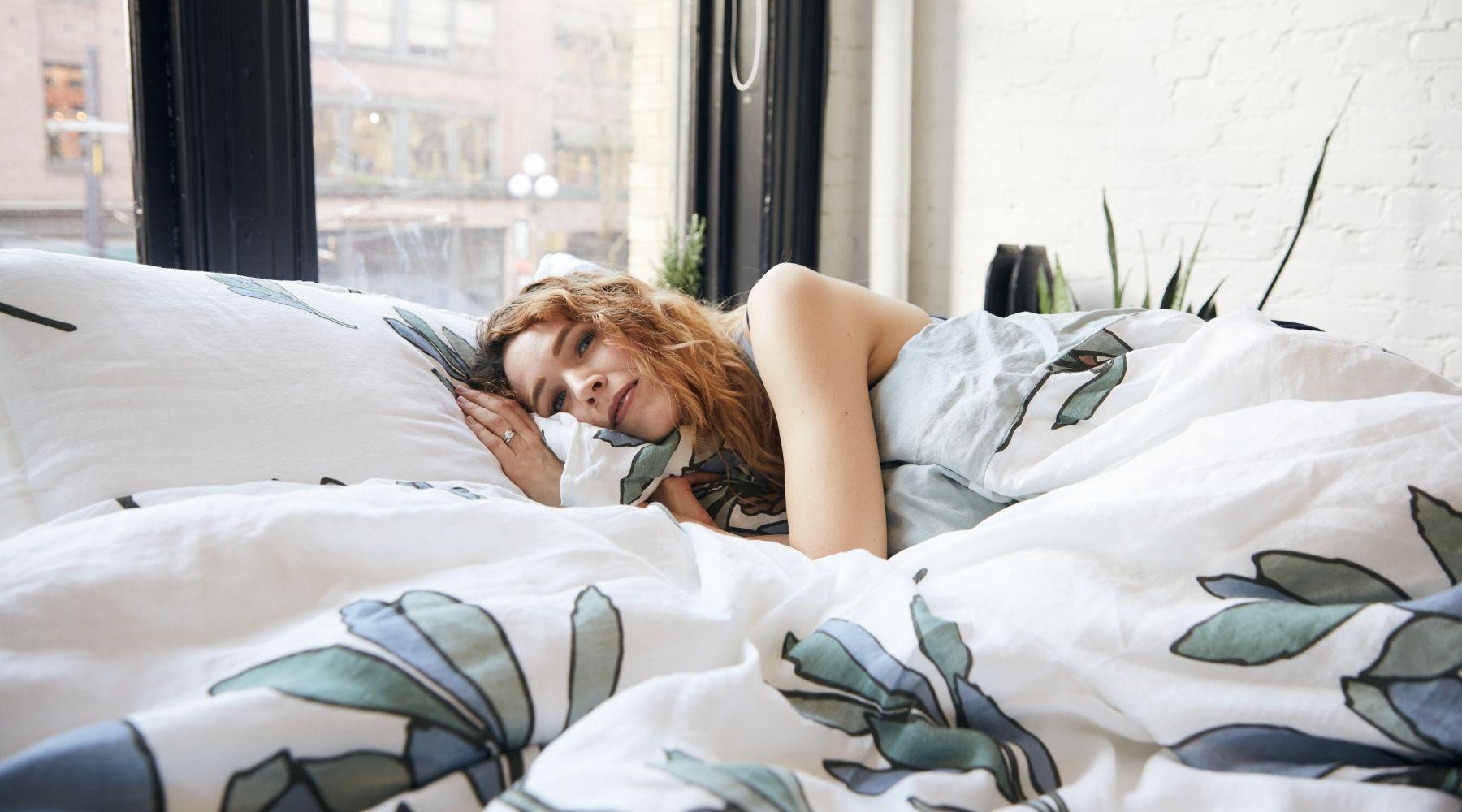 The Health Benefits of Organic Linen Bedding
Our organic linen bedding is not only super soft and sustainable, it's also good for your health! Find out how organic linen benefits your health, helping you sleep soundly and feel better when you wake.
Organic Linen Bedding—Certified Free from Harmful Chemicals
Our Scandinavian-style duvet covers are made from certified European Flax, which must be grown in France, Belgium, or the Netherlands. As a 100% natural, organic crop, European Flax linen is perfect for those with allergies, sensitive skin, or skin conditions such as psoriasis or eczema. All European Flax producers sign the European Flax charter, which is a commitment to environmentally-friendly local farming with no artificial irrigation, GMOs, or waste. The flax that goes into making our duvet covers is irrigated using rainwater and nothing else. European Flax certification also means that scutching—the process by which the linen fiber is extracted from the stem—is done 100% mechanically, without chemicals.
Our organic linen duvet covers are also OEKO-TEX certified. All Modern Dane bedding carries Class 1 certification, which is the most highly regulated class and the only one suitable for babies. Testing for OEKO-TEX certification takes place at independent institutes in Europe and Japan. All Class 1 textiles are free from banned substances such as phthalates, formaldehyde, Azo dyes, and heavy metals, as well as legal but potentially harmful substances like pesticides or allergenic dyes. Our organic linen duvet covers, sheets, and pillowcases have a skin-friendly pH and dyes that won't transfer onto your skin.
As well as meeting the stringent rules of the OEKO-TEX testers, our organic linen bedding also conforms to the strict environmental and social criteria of the Global Organic Textile Standard (GOTS). GOTS certification means that all dyes and process chemicals meet basic toxicity and biodegradability requirements. It also prohibits the use of formaldehyde, aromatic solvents, functional nanoparticles, and GMOs. GOTS certification means that fabrics are bleached using oxygen-based bleaches, rather than chlorine. Printing with aromatic solvents, phthalates, and PVC are prohibited; all our Scandi duvet cover designs are printed using skin-safe methods.
How Linen Helps You Sleep
Great sleep has many health benefits. We sleep so that the brain can flush out neurotoxins and consolidate memories; sleep helps us to maintain our body temperature, mood, energy levels, metabolism, and immune system. Lack of sleep has a profound effect on all aspects of our life: we're less productive at work and we perceive things differently, which affects our mood and relationships. In the long term, poor sleep affects our metabolism, which makes it harder to maintain a healthy weight.
Organic linen bedding helps to support good sleep. Unlike cotton, which eventually pills, linen becomes softer over time as washing degrades naturally-occurring pectin in the fibers. This makes linen bedding comfortable to sleep on, night after night. Every item in our Danish-style bedding collection is garment-washed once finished, so we've already started this process for you. Don't believe us? Pick up one of our swatches to feel how soft it is straight out of the box.
Disordered sleep is often caused by feeling too hot or too cold at night. Although better known as a summer fabric, linen is actually suitable year-round. Linen strands contain tiny pores, which either trap warm air or let it pass through, depending on the ambient temperature of the room. This makes linen thermoregulating—it keeps you cool when it's warm and warm when it's cool. Linen can also absorb up to 20% of its weight in moisture before it starts to feel damp.
Award-Winning Sleep
We believe that our Nordic-style bedding is the best on the market. But don't just take our word for it—the experts at Sleep Foundation named our duvet covers the Best Eco-Friendly Duvet Covers for 2022, saying:
"This duvet cover has the breathable properties of linen but is also softer than many competing linen duvet covers. The breathability of the fabric makes it an optimal duvet for use in all seasons. It also excels at wicking moisture, which may appeal to people who sweat a lot during sleep. While some linen duvet covers may have a rigid quality, this linen undergoes a garment-washing process that softens the feel. The fabric is engineered to soften even further with repeated washings."
It's official—when you buy a Modern Dane duvet cover, you're making a solid investment in your health and wellbeing.
Are you considering switching to linen bedding, or have you made the switch already? What differences have you noticed between organic linen bedding and other duvet covers? Let us know on Instagram, Pinterest, Facebook or Twitter!