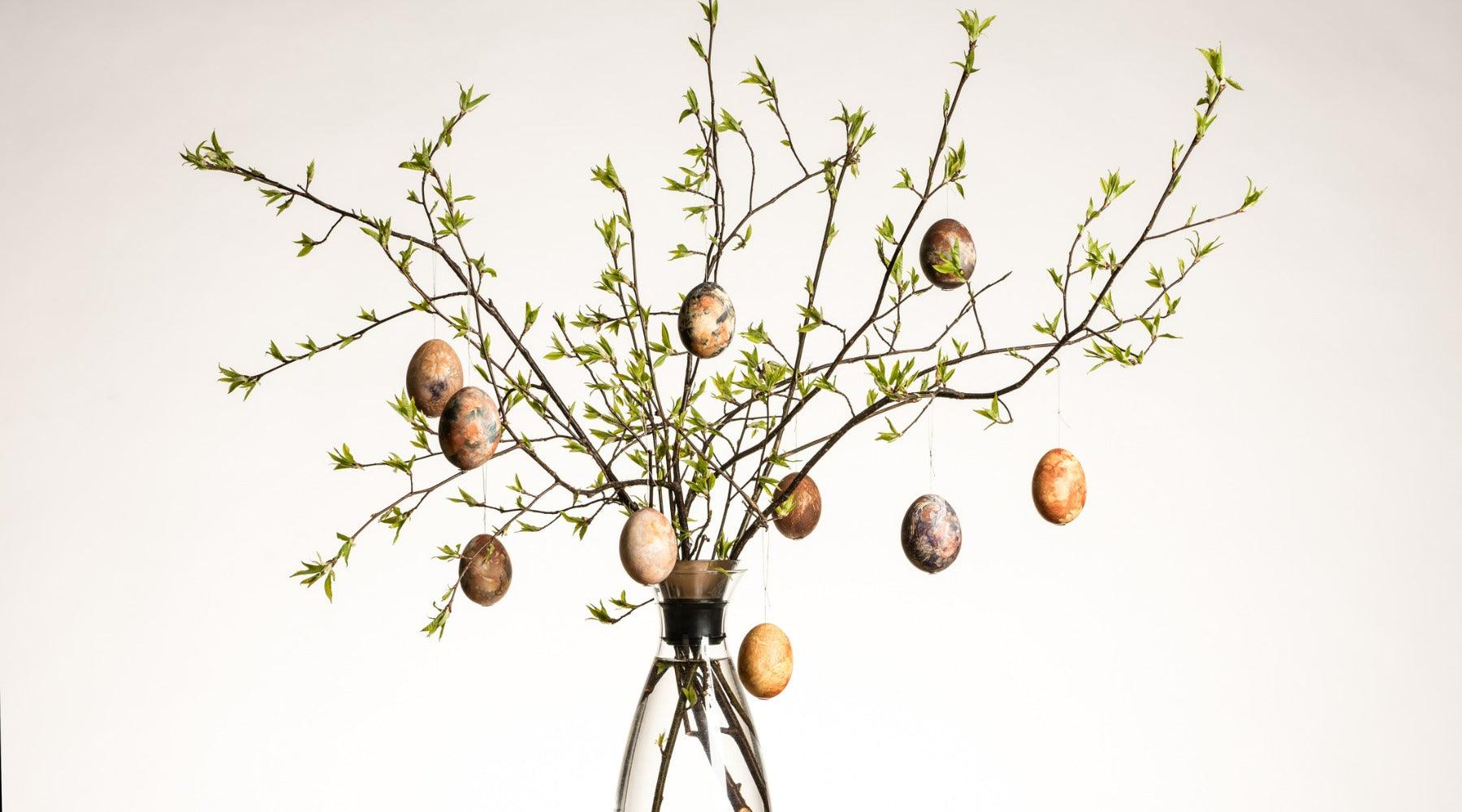 Scandi-Style Spring Décor Ideas
Spring has sprung! This is a beautiful time of year in Scandinavian countries—the sun is shining, birds are chirping, and flowers are blooming. Bring that brightness indoors with our Scandi-style décor ideas for spring.
Spring-Clean Like a Scandinavian
Spring is the time to throw open the windows, let out the stale winter air, and give your home a top-to-bottom clean. Scandinavians are notorious for keeping their homes pristine—but how do they do it?
Scandinavians' "house-proud" culture results from a high cost of living—eating out is expensive, so they entertain guests at home. Nothing will motivate you to clean like setting a dinner party date one week away!
Scandinavians remove their shoes at the door. Everyone wears house slippers or just socks, including guests. This avoids tracking dirt and mud into the home. Dinner guests may even bring their own slippers with them! Put a basket of machine-washable slippers by the door to make it more comfortable for you and your guests to remove their shoes.
Clean a little every day—Ingrid Opstad, Norwegian founder of That Scandinavian Feeling, sets aside 20 minutes per day to clean, with each day dedicated to a particular space. She also slips on a "dust glove" so that she can pick up dust just by running her fingers over surfaces as she walks around her home.
Declutter the Swedish Way
To take your spring clean to the next level, declutter unwanted items from your home. Döstädning, or death cleaning, is the Swedish practice of organizing your home to make it easier for loved ones to deal with your belongings after you're gone. Traditionally it was undertaken by Swedes at the end of their lives but a 2017 book by Margareta Magnussen, "The Gentle Art of Swedish Death Cleaning," started a worldwide döstädning craze even among the young.
To practice döstädning, you'll begin with items hidden away in storage. Let your family know what you're doing, so they can claim any discarded items that they want. For each item, think impassively about whether you truly need it—and leave sentimental items to last, to avoid getting caught up in nostalgia. You'll need to declutter your digital life, too, so make sure your login details are organized and that at least one of your relatives knows how to access them.
Banish the Winter Blues
Once you've decluttered and given everything a thorough clean, your space may be looking a little bare. This is the time to mindfully add a few things back in. Tackle the tasks that you always meant to do but never got round to—such as hanging pictures, repainting tired-looking surfaces, or placing plastic-potted plants into ceramic or rattan planters.
Want a more comprehensive, Scandi-style home refresh? Bring more light into your home. Paint your walls white to lift the gloom of winter and brighten your space. Move any furniture that's blocking the window, and replace dark, heavy curtains with light, gauzy fabrics like muslin and chiffon. Remove fusty, dirt-trapping carpets and replace them with light-wood floors—go with wood veneer if you're on a budget.
Get worn-out furniture reupholstered and tired cushions re-covered in natural, softly textured fabrics. Although European linen is traditionally associated with warmer months, it's actually suitable year-round—our Danish-style bedding is also organic, carbon-negative, and ethically produced. As a strong, durable fabric, linen has many uses—sofa upholstery, cushion covers and, of course, bedding. Many of our organic linen duvet covers, such as Kørvel and Fugle, are printed with spring-themed designs. They're a simple way to refresh and brighten your bedroom for the warmer months.
Add in Spring Colors
Spring colors are lively and optimistic. Pantone's Color of the Year for 2022, Very Peri, is a delicate, blue-toned purple—perfect for spring. However, it's not a color you'll want to use in large quantities or on permanent fixtures, particularly if you're decorating the Scandinavian way. Instead, use it in small doses on pieces with a limited lifespan—such as sprigs of fresh lavender—or on items that you plan to change with the seasons, like artwork, vases, and duvet covers. The name of our Blålig European bedding set means "blue-like" in Danish and fits in perfectly with this new color trend—plus, it's easy to swap out for another set when you want a change.
For more spring color ideas, just take a walk through your nearest park. New green leaves, yellow daffodils, and pink cherry blossoms can inspire your spring refresh. Make sure to use small amounts or stick with pastel-toned versions if you want to keep the Scandi look.
Bring Nature Into Your Home
We've got a whole blog post on how to bring nature into your home—yes, even in spaces with no natural light! Live plants, dried plants, and even high-quality artificial plants will breathe new life into your home after the dark days of winter. If you've never cared for houseplants before, now's the time to start—they're much easier to care for through summer, and you'll be a seasoned pro by the time winter comes around again.
As for fresh-cut flowers, there's no better way to present them than in a Scandinavian design classic. Finnish designer Alvar Aalto's eponymous glass vase is one of the world's most famous, with a lake-inspired form that will show off any arrangement.
Plant prints will also liven up your home—our Nordic duvet covers feature native Scandinavian flora, including chervil, oak, and Myrica gale.
Incorporate Scandinavian Easter Traditions
As with Christmas, Easter is a time of tradition in Scandinavia. Swedes gather on Good Friday and Holy Saturday to paint eggs to be hung on a tree in their garden or added to their Easter tree. Join in the fun by creating your own Easter tree—cut branches and place them in a vase, then adorn with painted eggs and feathers for the perfect spring centerpiece. 
Scandinavian Easter traditions also center around food and time with loved ones—in other words, hygge. It's a good time to refresh your table setting—if you're looking to upgrade, check out the colorful tableware collections of iconic Scandinavian brands such as Hay, Marimekko, and Iittala. If you prefer to shop local, look for hand-thrown ceramics with a muted reactive glaze, which will give you a relaxed Scandi vibe. And whatever you do, don't forget the candles!
Are you redecorating your home this spring? Which of these tips will you take on board? Let us know on Instagram, Pinterest, Facebook or Twitter!