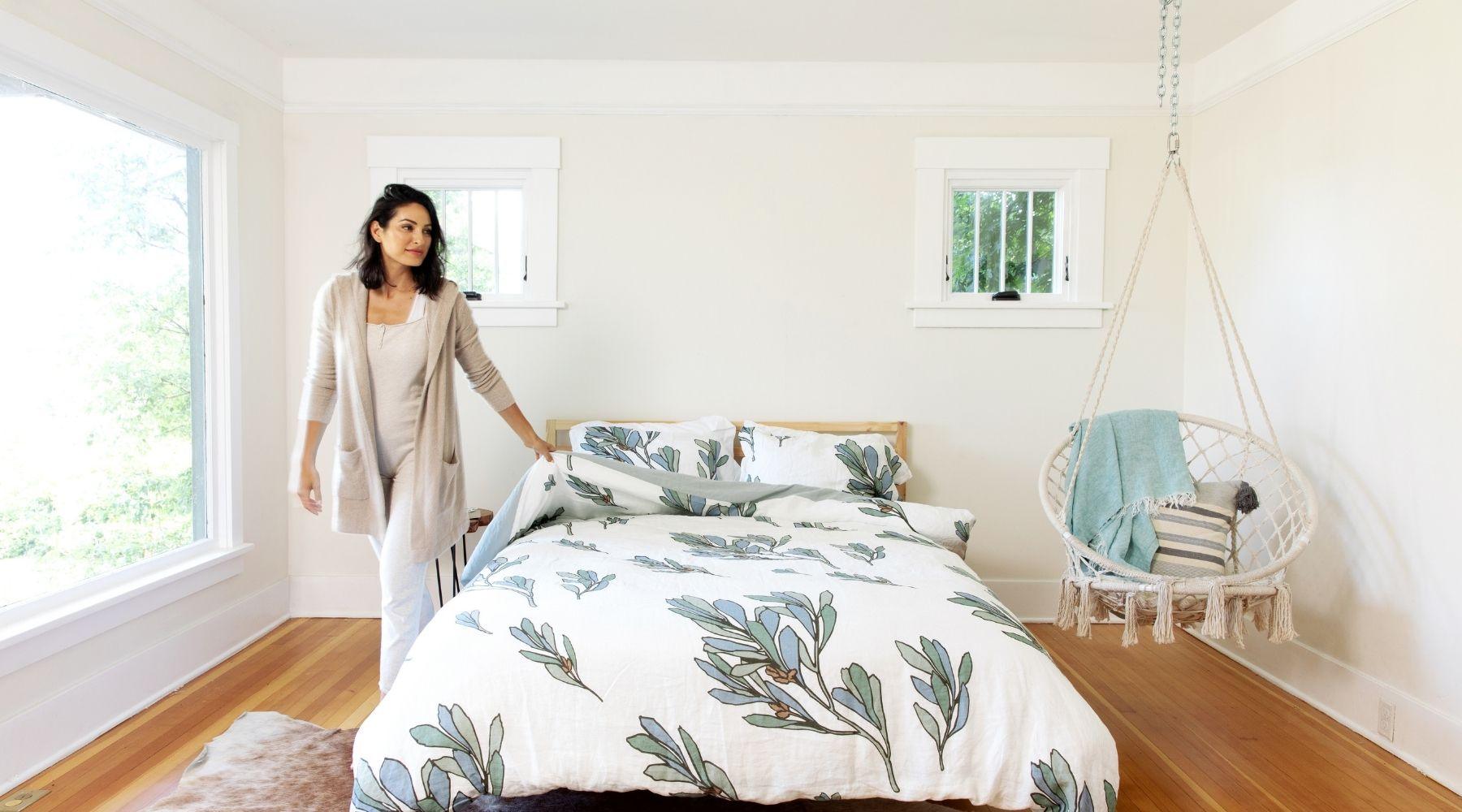 How Scandinavian Design Bedding Can Work In Your Room
From the textile it's made of to its print and color, Scandinavian bedding has a unique look and feel. See what sets it apart from the rest and learn how to integrate it into your bedroom aesthetic.
It's All In The Details
In our post on the principles of Scandinavian design, we talked about how quality and craftsmanship are two of our core values. Nordic bedding is a prime example of this. Many Scandi duvet covers—including our own Scandinavian-design bedding—carry OEKO-TEX certification. OEKO-TEX is the gold standard in textile quality and means that every detail of your bedding—from the stitching to the fastenings—is finished to the highest degree.
The Modern Dane duvet covers are woven and hand-sewn in Portugal, where textile craftsmanship dates to the 1700s. Our duvet covers come with corner ties to keep your duvet in place, as well as acrylic button fastenings that are both machine- and dryer- safe. Both duvet covers and pillowcases come with an inside flap to make changing your bedding a breeze.
To show off your Scandi duvet covers to best effect, make sure everything else in your room demonstrates the same attention to detail. Artwork and ornaments should be thoughtfully curated, and surfaces should be free of clutter.
Color: Not Just White
Scandinavian design is known for its all-white aesthetic, and for good reason—an all-white color scheme helps to bounce light around a room, making rooms feel brighter and more spacious during the dark winter months. If the white-on-white aesthetic appeals to you, you're in luck: our Hvid and Grå duvet cover sets, from our solid-color collection, will sit nicely in a white (or off-white) space. Most of our printed designs also come with a white background, so you can use your duvet cover as the point of interest in an otherwise minimalist room.
However, white's not your only color option when it comes to Scandinavian design. The mid-century revival in the US has ignited a trend for more daring color choices, which has been repeated around the world. Denmark, the birthplace of the mid-century design style, has gone back to its roots with bold and beautiful fabrics in deep jewel tones. Color in Scandinavian design is usually inspired by nature—think trees, flowers, and birds. Our solid-color duvet sets include options in olive green and deep ocean blue, and our Kørvel printed set comes in delicate lilac. Each of our printed sets has a complimentary colored underside—and you can now buy pillowcases to match.
Prints Inspired By Nature
Scandinavian design has a rich heritage in nature prints, exemplified by iconic brands such as Svenkst Tenn and Arabia. The vibrant daubed flowers of Marimekko are particularly popular, covering everything from summer dresses to oven gloves. And in a departure from the usual forest and flower themes, the Danish brand Ferm Living recently released a line of ocean-inspired prints.
Nordic bedding is perfect for lovers of the outdoors, as you'll find a wide variety of nature-inspired designs. Our Scandi-style duvet covers feature Denmark's most beloved flora and fauna: Myrica gale, wild chervil, and the majestic oak. And who could forget the flax plant, the source of our super-soft linen? Bird enthusiasts will sleep soundly in our Fugle duvet cover set, which also makes a great choice for a kids' bedroom.
Complement these nature-inspired prints by bringing more plants into your space—they're proven to reduce stress and aid relaxation. Houseplants and cut flowers will freshen up the air, while dried plants and plant artwork will give your room a cozy, homey feel.
Creating Hygge Through Touchable Organic Textiles
As you might expect from a nature-obsessed region, Scandinavia produces bedding made from natural and organic materials. Occasionally this is organic cotton but usually, it's European linen produced in France, Belgium, and the Netherlands. As a carbon-negative, zero-waste crop, European linen aligns perfectly with Scandinavian values. With a loose-woven, touchable texture, it adds an element of hygge to any room—perfect for when you want to cozy up with a book, a hot chocolate, and some candles.
At The Modern Dane, we sell Scandinavian design bedding made from 100% organic European linen. Our linen is certified free from GMOs and harmful chemicals and is made in factories where workers are paid fairly and work reasonable hours. It's garment-washed before it gets to you, so it's soft right out of the bag—and continues to get softer and stronger with each wash.
What's your favorite thing about Scandinavian design? Do you have any tips for achieving hygge? Let us know on Instagram, Pinterest, Facebook or Twitter!