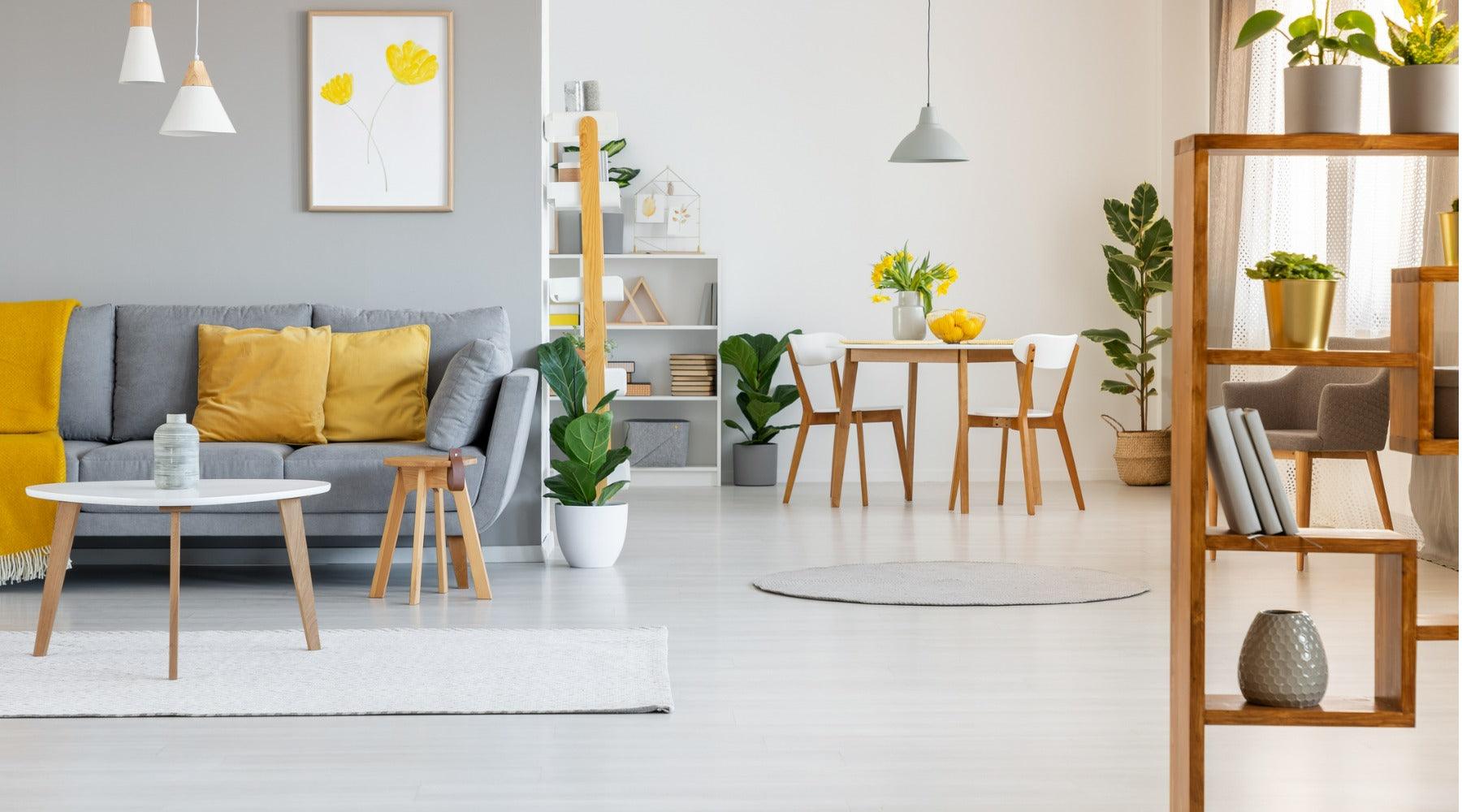 Scandi Finishing Touches: How To Make a Big Impact With Little Details
We often hear that it's the finishing touches that make the biggest impact—yet few of us actually know what that means. Learn Scandi secrets to elevating your space, from arranging coffee-table books to dressing a welcoming bed using Scandinavian-style duvet covers.
Still Lifes and "Shelfies"
A still life—a group of similar or complimentary objects—is a popular subject for painters but did you know that still lifes can work in your home too? By grouping objects instead of spreading them out, you'll take your space from "cluttered" to "curated."
Popular locations for still lifes include coffee tables, windowsills, dressers, and desks. Placing a tray under your still life will encourage a feeling of unity and make it easier to move—for example, if you want to work at your coffee table—but it's not mandatory. In "The Interior Design Handbook," Swedish designer Frida Ramstedt shares her secrets to a balanced still life:
Arrange items in a group, not in a line. Make them overlap slightly too; this will make the arrangement look more cohesive.
Work with objects in different shapes, sizes, and materials. Your still life should have a high point (a candlestick or pot plant), a weighty point (a bowl or round vase), and a focal point (something that catches the eye with a distinct pattern or texture). On a coffee table, the weighty point is usually a book or two.
Work with odd numbers and triangles, which are both naturally pleasing to the eye. Place your "high point" object in the center of the composition so that it creates a triangle shape when you stand back. You can also arrange objects in a "golden spiral" so that they form a descending spiral in order of height.
Although it's usually desirable to mix objects, in certain settings it may be more appropriate to combine objects of the same type. Arrange perfume bottles in a pretty composition on your dresser or show off your condiment collection in the kitchen.
Bookshelves are not just for books—they're an opportunity to create a living art installation in your home, popularly known as a "shelfie." To create a shelfie, leave about 30% of the bookcase clear of books, creating a small space on some of the shelves where you can place a still life composition. If you don't have bookends, use heavier books stacked horizontally. Use the triangle rule to determine where to leave these spaces; the still lifes should form the corners of a triangle.
Arrange Soft Furnishings For a Hygge Look
When designing your home, you may have wondered: why do beds and sofas in home design magazines look fluffy and hyggeligt while the ones in real homes often look flat and understuffed?
It's worth remembering that no one lives in the homes arranged by designers for photographs—so they'll use tricks that are difficult to replicate at home, such as stuffing duvet covers with two duvets. That said, if you use an all-seasons duvet during the winter, you're most of the way there!
There is, however, one trick that everyone can use: the cushion karate chop. Fluff up your pillow or cushion as normal, then give it a firm "chop" down the middle, which will create that plump, lived-in look. With large cushions, you may want to give it a chop on either side, too. When selecting and arranging cushions, remember the still life rules above: vary the size, color, and texture, use odd numbers, and arrange them in a triangular shape, with the tallest cushion at the back.
Lately, it seems that everyone is in competition to have the most cushions on their bed or sofa—to the point that there's no room for anything (or anyone) else! But in Scandinavia, we're all about practicality—enough sofa cushions to support your back when you're reading or watching TV but no more. And if your duvet covers are attractive enough, cushions are definitely optional. At The Modern Dane, our organic linen duvet covers come in a variety of beautiful, Scandinavian-inspired designs that can stand alone as the focal point of your bedroom—cushions might not be needed at all.
Add Personality
Everyone's got them: those objects that you could never part with but you're too embarrassed to display. Think: a cheesy fridge magnet with a story to tell; a collection of toy cars; magazine clips of your favorite actor, actress, or author. They may not match your carefully planned mood board or Danish mid-century chairs—but neither should you hide them in a box for fear of judgement by your guests or social media followers. Let's face it—few of us will end up in Architectural Digest, so we should create a home that makes us happy. In the words of Frida Ramstedt: "Do you want a place to stay, or to display?"
If you're feeling brave, go ahead and display those objects. You could even make a still life or focal point by arranging them on a bookshelf or pinboard. If, however, they're just a bit too embarrassing or incongruous, make a secret shrine somewhere your guests are unlikely to see them—inside your wardrobe or larder, for instance. No one else needs to know—and they'll make you smile every time you see them.
Homes Are For Living In
When maintaining our homes, we'll often tidy most of our possessions away, straighten what's left—and then wonder why our home looks clinical and uninviting. It's natural to want things to be neat before entertaining guests or taking a photo for social media but remember—unless you're selling your home, you should be living in it.
What sets real homes apart from show homes are the signs that someone lives there: a pair of slippers by an armchair; a half-finished mug of coffee; candles so well-used, they've collapsed into a waxy mass (in other words, the average Danish home). If you have a messy-by-nature hobby such as painting or pottery, don't feel the need to tidy every time you've finished for the day—be proud of your talents, not ashamed of your "messiness." Aspire to minimalism, by all means—but don't make it your full-time job.
Our organic linen duvet covers come in a range of Scandinavian-inspired designs that will add the finishing touch to any space—shop the full range here. How are you styling yours? What's your favorite way to finish a room? Let us know on Instagram, Pinterest, Facebook, or Twitter!