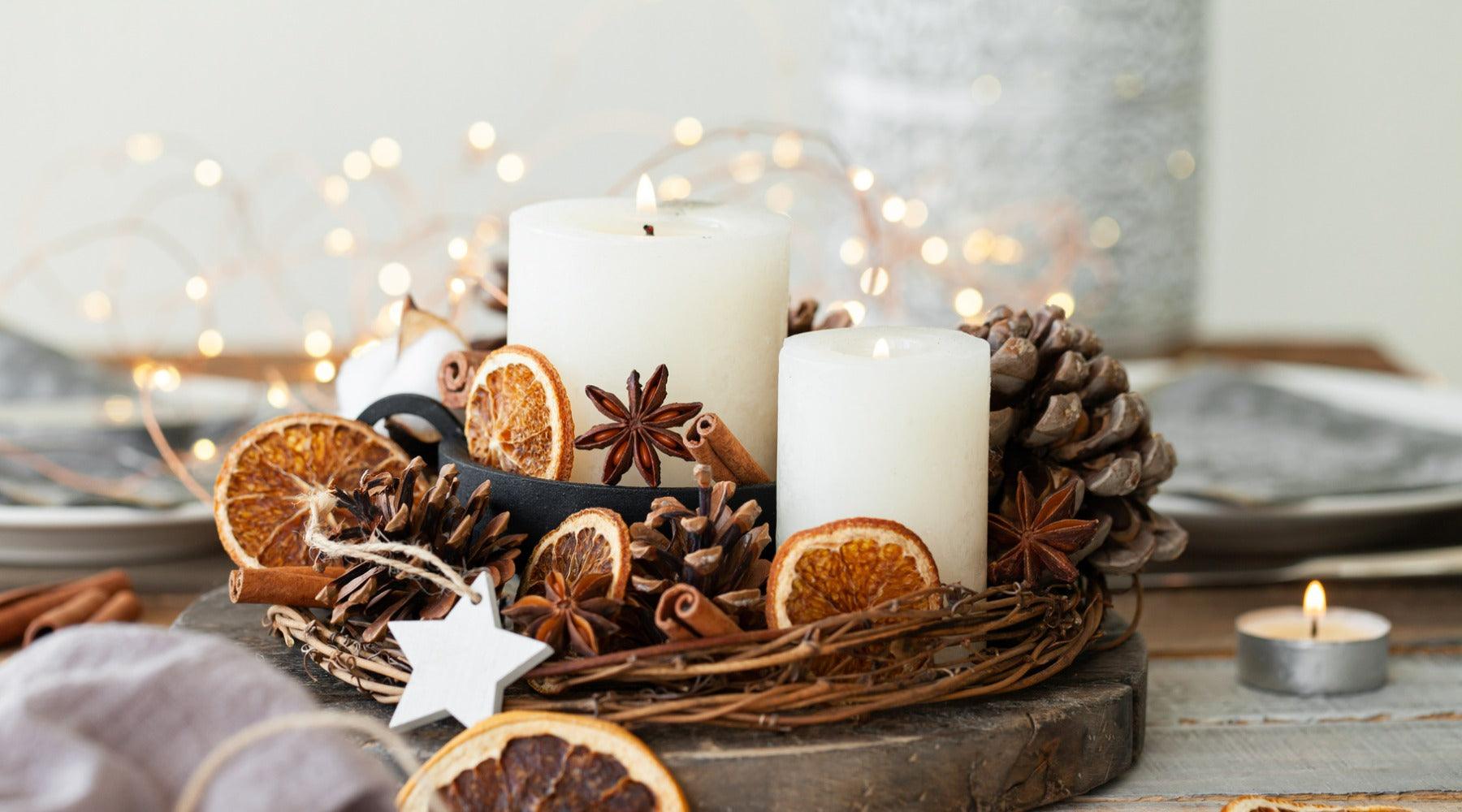 The Ultimate Guide to Scandinavian Winter Décor
From lighting to layout, crafts, and more, see how to brighten up your home and create hygge-filled spaces during these dark winter months.
Winter is a beautiful time of year: snow-covered streets, spectral branches, and the glow of sodium lights. It can, however, be a difficult time for many people. Longer nights and dwindling light trigger the winter blues—or Seasonal Affective Disorder (SAD), to give it its proper name. Those affected by SAD feel lethargic and depressed, with less motivation to socialize or do the things they would normally enjoy.
Scandinavians are well used to winter—rather than fighting the darkness, they work with it by perfecting indoor lighting, creating cozy spaces, and arranging their home to facilitate communal activities that keep loneliness at bay. It's all part of hygge—the Scandinavian quality of coziness and companionship.
Get the Lighting Right
"Famously, there are three things that matter in property: location, location, location. It turns out, however, when it comes to the hygge home, it is: lighting, lighting, lighting," says Danish happiness researcher Meik Wiking in his new book, My Hygge Home. Great lighting will lift your spirits on even the darkest days—but how do you go about it?
Start by maximizing natural light. Make sure there's nothing blocking light from coming in: this could be furniture, badly hung curtains, or even dirt on the windows. Position your furniture to make the most of changing light levels. Wiking puts his work desk in an east-facing window that catches early morning rays, and his dinner table in a west-facing window where he can watch the sun set. Brighten up your interiors, too; white walls, light floors, and mirrors all serve to bounce light around.
Once that's sorted, it's time to get lighting like a Dane. The key here, says Wiking, is to use lots of smaller lamps to create "islands of light," rather than having a single, directionless ceiling light. If you've set up your lighting correctly, you won't even need to turn on your ceiling light (except to clean your home). If you can, invest in a smart lighting system that will allow you to fine-tune individual brightness levels. And stick with warm white bulbs—no higher than 2700K.
For each light, think carefully about what type of lampshade to use. Diffuse shades scatter light evenly: think frosted glass or linen. Focused shades shine light in a directed beam: use them as task lighting or to bring attention to a painting. Up-lights and down-lights have a closed shade that channels light in one direction: use up-lights for wall sconces and down-lights for reading lamps. Mix and match all four types for maximum hygge.
Don't forget candles! Candles are an essential part of the hygge home, and can stand in for electric lights if you're still saving up for that Poul Henningsen pendant lamp.
Get Cozy
"If you can wrap it around you or it is comfy to sit on, it is hygge," says Meik Wiking. "For quality hygge hibernation, you have to add more softness."
Wiking suggests creating a space for your whole family or group of friends to "cuddle up." If that's a step too far for you, just apply the general principle: think pillows, blankets, and rugs. Natural materials such as wool, fur, and linen are hygge—polyester, not so much.
Our Scandinavian-style bedding is made from 100% organic European linen, which gets softer with every wash. Organic linen duvet covers are made from the flax plant, which is naturally porous. These pores trap air, creating an insulating layer to keep you warm on cold winter nights.
Add Greenery
The trees outside may be bare but your home doesn't need to be! Green, leafy plants will lift your mood by adding life to your space. Make sure they're getting enough light to grow well over darker days.
Wiking suggests that you go a step further and grow edible plants at home—although you may have to wait till next year to see results! A surprising range of fruits and vegetables can be grown on a windowsill, including spinach and radishes. Strawberries and ginger will also thrive and can be put into jams and preserves for your winter pantry.
For nature without the maintenance, our European bedding celebrates the natural world with Scandi nature prints such as Myrica gale and ancient oak.
Create Connections
A well-designed home will help you connect with others—whether they're guests or the people you live with.
To facilitate connection, don't make the TV the center of the room. "For a layout that encourages socializing, you need to arrange the seating so that people can look one another in the eye," says Swedish designer Frida Ramstedt in The Interior Design Handbook. Have chairs facing one another, with the TV at a 90-degree angle—or if you'd rather combine TV and conversation, have the sofa facing the TV but with two complimentary armchairs placed at 90 degrees to the sofa. Keep cards and board games visible so that people will want to play with them rather than reaching for the remote.
Think about your table setting, too; round tables make conversation easier. Move food preparation to the dining table so that everyone can take part—there's nothing more hygge than tucking into a meal you've prepared together.
The Art of Hyggecraft
Crafting is a hyggeligt activity with the additional advantage of making your home more beautiful—and it doesn't have to cost the earth.
Knitting is a fun and relaxing hobby—plus, what you make will keep you warm! Start with simpler items such as throws and socks and work your way up to jumpers and tea cozies.
Learn to make your own candles—all you need is a wax jug and wax pellets of your choice. Soy wax and beeswax are more sustainable than paraffin wax—just bear in mind that soy wax is soft and therefore only suitable for container candles. Although Scandinavians traditionally favor unscented white candles, there's no harm in mixing it up—take inspiration from the Danish brand HAY, which is famous for its rainbow candle collection.
Do you practice hygge? How will you be preparing your home for winter? Let us know on
Instagram
, 
Pinterest
, 
Facebook
, or 
Twitter
!