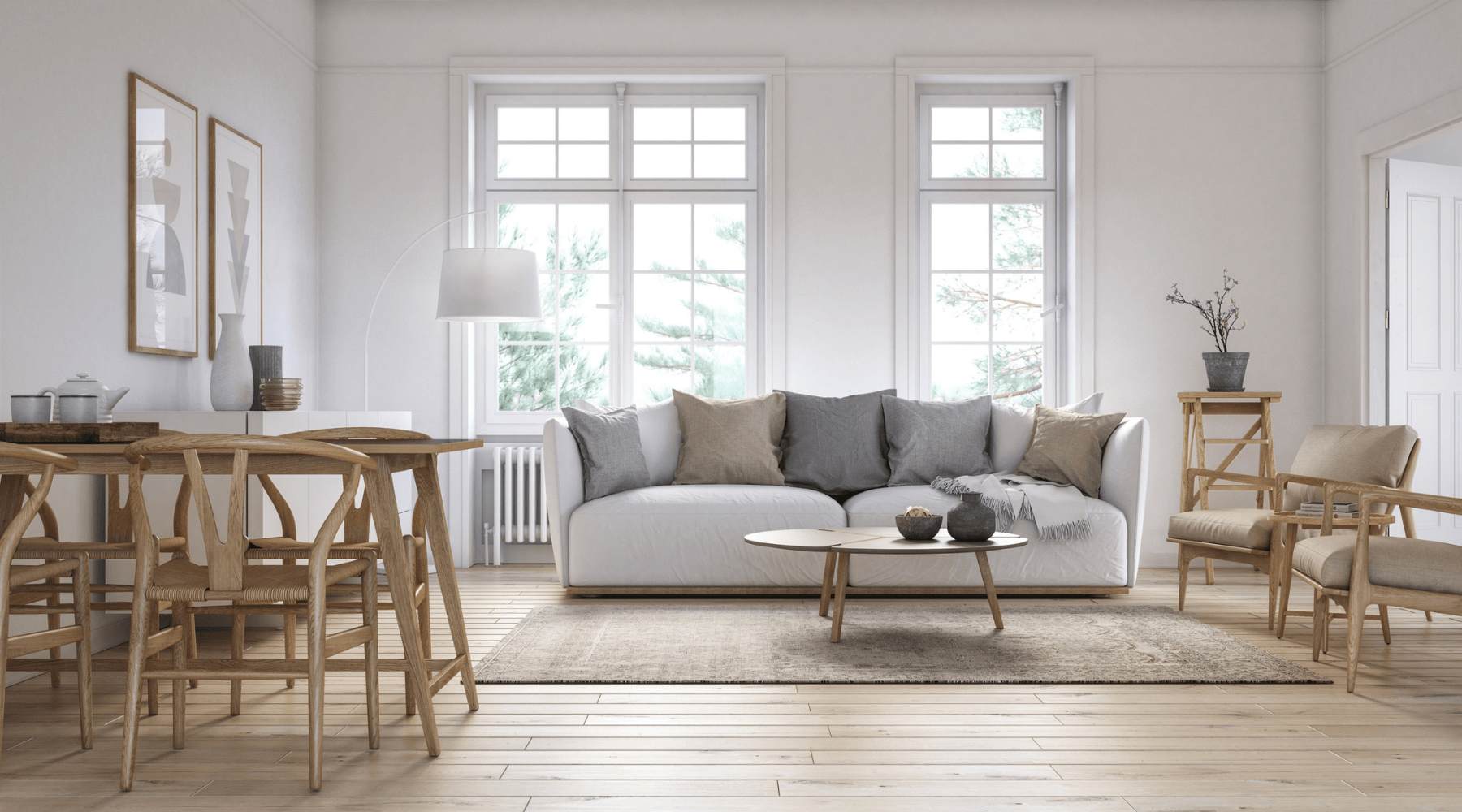 Using Scandi-Style to Bring Serenity to Your Home
Scandinavian interior design has long been revered in Europe, and people in the Nordic countries—Finland, Denmark, Norway, Sweden, and Iceland—are consistently found to be some of the happiest in the world. But can interior design really impact happiness? How are the two intertwined? Scandinavian culture focuses on living a happy and rewarding life and Scandinavian design philosophy reflects that. A simple but purposeful design aesthetic can help us focus on what we really need in our homes and in our lives, removing what isn't needed and leaving us happier and more fulfilled.
It was in the mid-1950s that we started to see the influence of Scandinavian style emerging in the United States, both through architecture and interior design. As Nordic designers came to the U.S. to showcase their designs, people welcomed the minimalist, purposeful style and the way pieces were simple, functional and driven by their relationship with nature. Lots of light, greenery and structure were being integrated into post-war, mid-century modern design. A philosophy was spreading, one rooted in values of sustainability, functionality, quality and beauty. Many mid-century modern homes in the U.S. are rooted in Scandinavian design—and you can see this in the shape of furniture, well-lit spaces and the clever ways different natural materials are used to create beautiful pieces. 
Scandinavian interior design—or Scandi-style for short—is simple, sustainable, purposeful at its core, and admired for what it creates: cozy, thoughtful spaces that are minimal, yes, but also home to items that have special meaning to you. An old wooden coffee table passed down from your grandmother, a decorative serving bowl brought back from a trip to Portugal, or a handmade statue from your local market—if they hold meaning to you, all have a place in your home.
Above all else, Scandinavian design philosophy believes that good design helps us live happier, more rewarding lives. Today, in an ever-changing, busy world, Scandi-style offers stability and calm, a coziness, a chance to bring the outdoors in—and, perhaps most important, an inclusivity, with high-quality yet affordable pieces that offer comfort and encourage relaxation. It's a style that can be carried throughout every room of the home—and we're about to show you how.
The Bedroom: Where Comfort and Relaxation Meet
Creating a peaceful place to rest your head every night is a goal for most of us. But it can be challenging, with busy lives getting in the way. Take a step back and review what's in your bedroom, removing all items that don't serve a purpose. Paint your walls a muted tone to serve as a foundation. Although Scandi-style is minimalistic and clean, it's also intentional and eye-catching—meaning there is a place for color! Add a simple but bold light fixture, a bright painting on the wall or one of our organic linen duvet cover sets (we just launched our solid color linen duvet covers!) for that pop of color. Sustainable, Scandinavian bedding brings quality and beauty to your room, creating that serene space to fall into each night.
A Rustic and Cozy Living Room
Scandinavian craftmanship is a pillar of Scandi-style. Winters in Nordic countries can be harsh and their design philosophy reflects that seasonal reckoning with the elements. Even if your winter days aren't quite as dark or short as those in Denmark, we can all still benefit from the cozy, warm spaces that well-crafted pieces and natural materials create.
Don't have beautiful, exposed wooden beams in your living room? You don't need them! Bring in high-quality, modern and practical units that embody what the functional beauty Scandi-style is all about. Items like book cases, storage cupboards and shelving units are all necessary for a room to be organized and uncluttered but they can also be beautiful in their own right. A chest of drawers made of oak or teak for storage, a hand-woven wool rug at the foot of the sofa, planter baskets with cascading vines hanging in the corner—all add rustic beauty to your space. Choose a warm, soft throw for the back of your sofa and light a fire in the fireplace to round out that hygge the Danes are famous for.
Bathroom: Function + Style
Simplicity is key in the bathroom. Think clean lines, with clear shower panels, solid mirror frames and natural materials. Keep the walls neutral and focus on functionality. Does every item in the space have an intent, a purpose? This certainly doesn't mean the room should look boring. Incorporating natural wooden furniture (avoid heavy stains or paint), like shelving units for candles, a wooden vanity or even a wooden accent wall to create an outdoor feel. Don't be afraid to add color—either in a geometric floor tile, with some greenery or with patterned hand towels.
A Bright, Welcoming Kitchen
The kitchen is a gathering place. Already filled with the warmth of cooking and conversation, its design should complement, not overshadow, the hygge that naturally comes from bringing loved ones together in one space. Keep it calm with white paint and light-colored units. Bring in nature with wooden cutting boards, countertops, and exposed shelving. The kitchen is one of the best places to bring in greenery—the ultimate Scandinavian design accessory. Set up an herbs and spices rack and bring in some large potted plants. Since the kitchen is such a functional space, take care to blend beauty and utility—add wall hooks to hang pans, exposed shelving for plates and bowls, or a holder for your favorite cookbooks. Keep lighting simple but purposeful – a few simple pendants or decorative light bulbs can make an impact without being over the top.
A Clean and Functional Family Room
It's very easy for family rooms to become a dumping ground, cluttered with miscellaneous LEGO pieces, stacks of half-read books and piles of old magazines. Change that! Clear out the clutter and introduce sleek, useful furniture in a variety of shapes and textures, like a round upholstered ottoman, a wall-mounted TV with a slimline storage unit beneath it, and an arched floor lamp in the corner of the room for a soft, subdued lighting option. Remember, Scandi-style doesn't mean you need to remove everything—just be purposeful about what you leave in. Recycle the old magazines but what about those toys and books? Choose storage units with multiple drawers to organize toys into different categories and wall shelves for your books—creating a cleaner, uncluttered space to relax in.
Understanding how Scandinavian values of sustainability, quality, simplicity, and functionality can come together to create beautiful spaces in the home is key to making Scandi-style work in your home. Whether it's through quality linen bedding, rustic furniture or decorative throw pillows, each item in every room of the house serves a purpose.
What Scandinavian design elements have you adopted in your home? Share your photos with us on Instagram, Pinterest, Facebook or Twitter. We'd love to see your Scandi-style in action!