7 Must-Haves for a Scandi-Style Bedroom
Simple, serene, and minimal: Scandinavian design seems made for restful nights. From furniture to lighting, bedding, and more, we break down the seven must-have items for your Scandinavian bedroom.
A Minimalist Bed Frame
Start with the foundation: a simple yet sturdy bed will support you for decades. Choose a natural wood frame for the Scandi look—metal is less easy on the eye and really hurts if you stub your toe in the night. Opt for a low headboard or leave it out altogether—you don't want your bedroom to end up in an Arvin Olano video. Beds with legs bring balance to the bedroom by making the bed look less dominant—however, you're missing out on vital storage space. A platform "illusion" bed is a best-of-both-worlds solution that combines sleek minimalism with practical drawers.


Scandi Storage Solutions
The Scandinavian design ethos is all about functionality. In the bedroom, this means efficient storage: wardrobes, drawers, and nightstands. It's time to head to the antiques store—many sell mid-century classics from Scandinavian (and Scandinavian-style) designers for the same price as a flat-pack and will deliver to your home for a small fee. As with bed frames, stick with minimal, unembellished designs in natural wood. Don't buy a larger closet than you need—declutter your existing wardrobe before assessing whether you need one, two, or three doors. Hang your clothing Marie Kondo-style—from longest to shortest—and you may even have room for a small chest of drawers inside your wardrobe. When choosing nightstands, follow the rule of thumb used by Scandinavian designers—nightstands should be around 10 cm (4 in) higher than the surface of the mattress.

Cozy Bedside Lighting
You don't need a ceiling light in your bedroom. In fact, they're often missing from high-end hotel rooms in Europe, as many lighting designers there believe that bedside lighting creates a more restful ambiance. The type of lamp you choose depends on what you want to use it for. If you like to read in bed, adjustable task lamps are best; if the bed is just for sleeping, you can choose a static lamp. If you're doing a full renovation, install bedside pendant lights or wall sconces, which will look neat and free up space on your nightstands. For most of us, however, the most viable option is a table lamp. This should be around two inches taller than your nightstand to keep everything in proportion. Style-wise, you've got plenty of choice: Denmark has a long legacy of lighting design, from the mushroom-shaped "flowerpot" lamps of &Tradition to the bird-like creations of Fritz Hansen. Whatever you go with, think simple and geometric.


A Light-Bouncing Mirror
Scandinavian homes are famously small. The average house size in Denmark is 1,475 sq ft, as opposed to 2,164 sq ft in the United States. Scandi designers, therefore, need to use plenty of tricks to make small spaces look larger—and one of those is mirrors. As well as creating the illusion of more space, mirrors bounce light around a room, maximizing natural light levels through dark winter days. From a practical perspective, your bedroom is usually where you get dressed—so it makes sense to have a tall, full-length mirror in there.

Serene Scents
The right scent can set the tone for a relaxing evening and a good night's rest. Scandi design is all about keeping it natural, though, so eschew artificial scents in favor of essential oils made from real plants. If you have time, you could even take up the hygge hobby of making your own scented candles and reed diffusers. Floral oils such as lavender and rose will help you relax; pine and fir evoke Scandinavian forests and cinnamon and cardamom are classic winter spices used in gløgg, the Danish version of mulled wine.


Plenty of Greenery
We Scandinavians love the natural world, and that love is reflected in the abundance of plants in our homes. It's well-established that spending time in nature improves one's health—but that's not always possible in harsh winter conditions, so bring the outdoors in and reap nature's benefits without contending with the weather. An over-the-bed shelf can display plants, art, and ornaments: choose trailing varieties, such as pothos and philodendron, for the most impact. These trailing plants can also be placed on top of large furniture items to break up the "blocky" look they create. Compact sansevieria, or snake plant, makes an ideal bedside choice; succulents and cacti are also popular bedroom plants but they'll need a spot next to the window if they're to thrive.



Organic Linen Bedding
Want more plants without the hassle? Grab a set of our nature-themed printed Scandinavian design duvet covers (though we've also got solid-color varieties if you prefer that look). They're not only beautiful but comfortable: each European bedding set is garment-washed before it gets to you, ensuring that you get the softest, strongest linen possible. No matter where you live, linen is the ideal all-weather bedding: it's naturally thermoregulating, which means that it keeps you cool in summer and warm in winter. It's also hypoallergenic, which makes it a great choice for sensitive skin. The production process of organic linen duvet covers adheres to Scandinavian values of sustainability and respect for the natural world. European flax—the plant from which our linen is made—is a carbon-negative crop, and each order you place with The Modern Dane has shipping emissions offset through our partnership with Planet. With Nordic-style bedding, there's no need for top sheets, throws, scatter cushions or any other clutter that gets in the way of a good night's sleep—linen's texture creates enough of an impact. Whether you and your partner want to sleep fully Scandinavian—with individual twin duvets on a double bed—is up to you.
What are your Scandi must-haves? Which of these tips will you be putting into practice? Let us know on
Instagram
, 
Pinterest
, 
Facebook
, or 
Twitter
!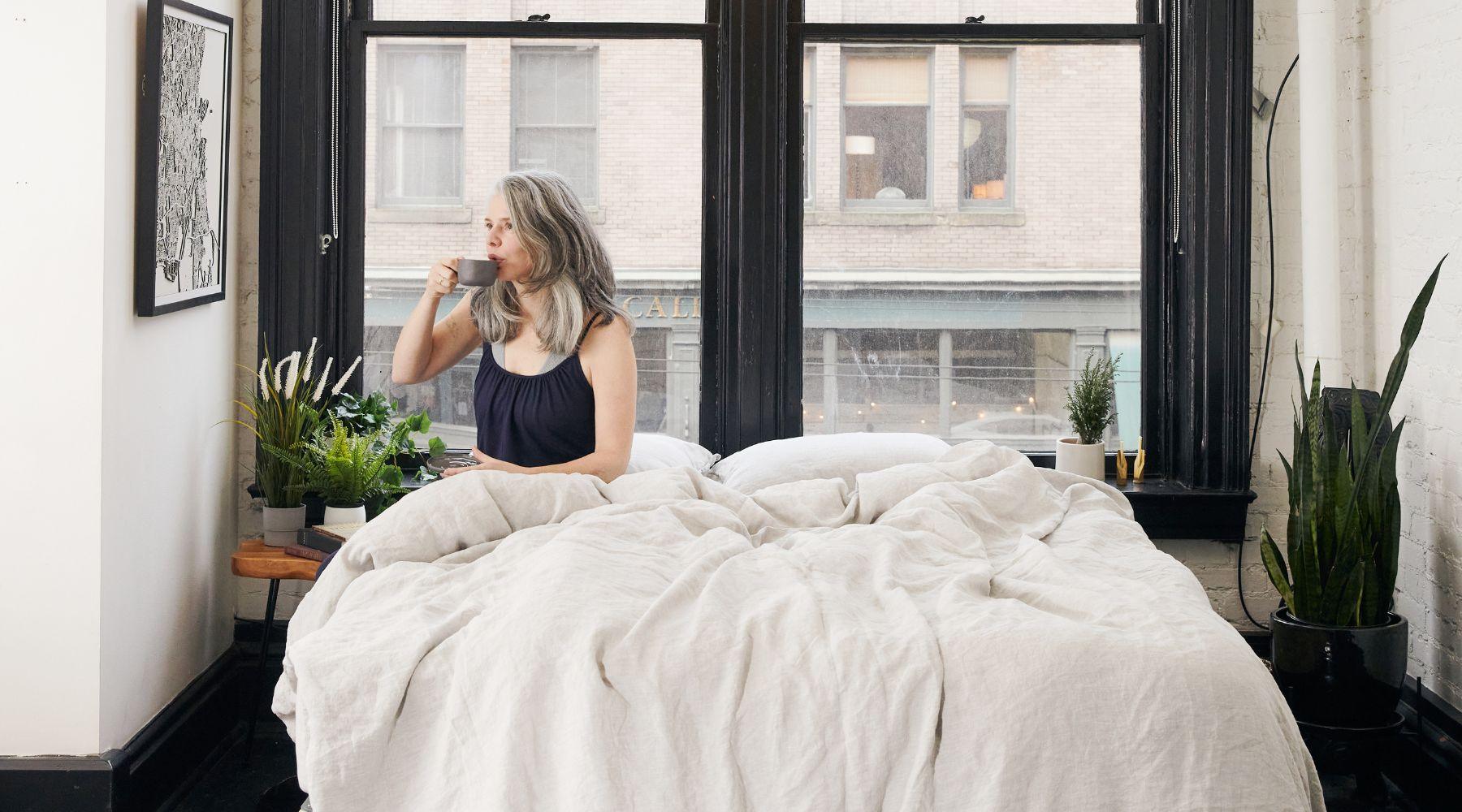 Yes, linen does wrinkle—and that's what we love about it! See how the properties of linen give it that wrinkled, natural look.
Read more