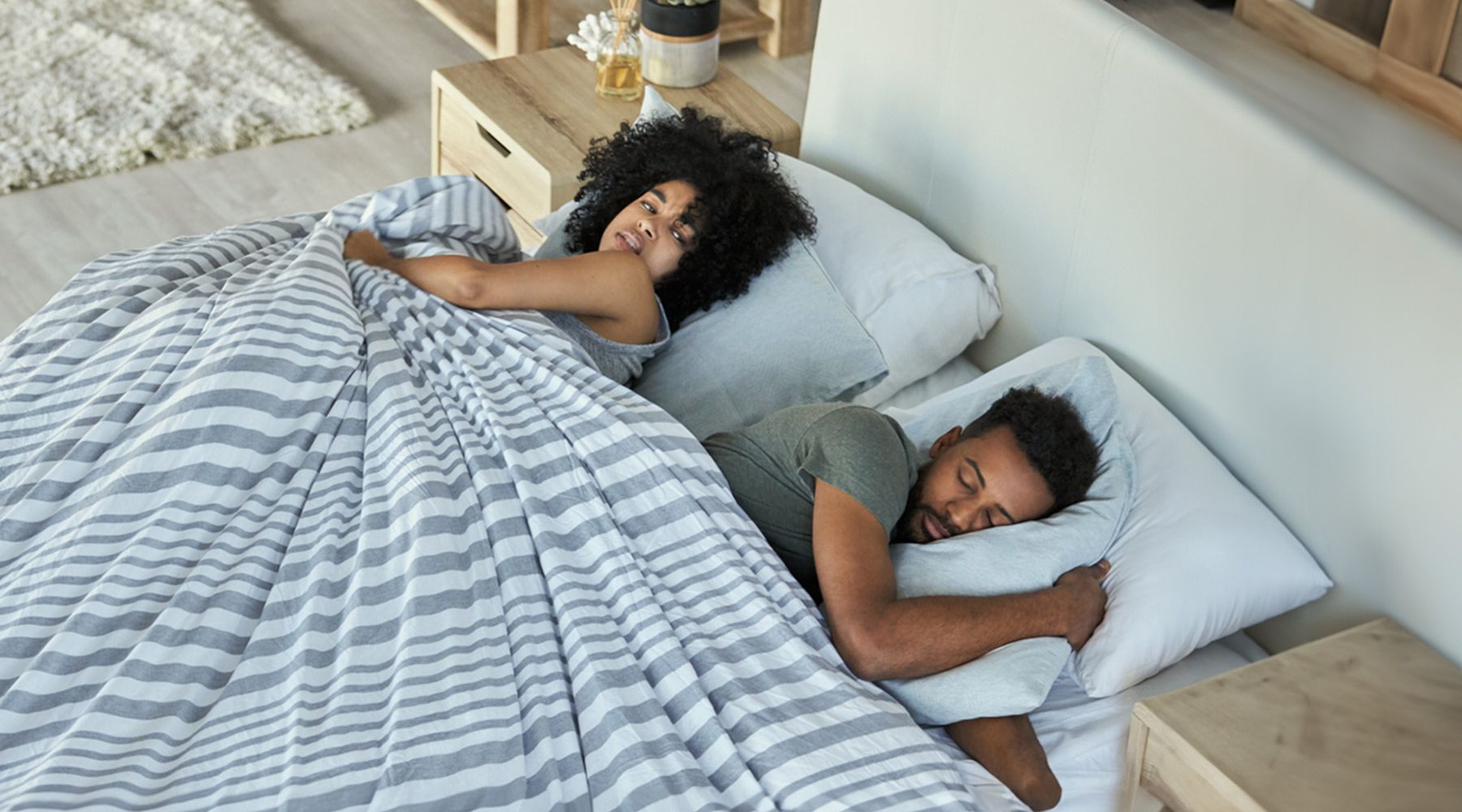 Sleeping the Scandinavian Way: Pros and Cons of Separate Duvets
Sleep is absolutely vital for health and wellbeing, something that research continues to confirm over and over again.
"It has become increasingly clear, however, that no matter how hectic our lives may be, we can no longer afford to ignore what research is telling us about the importance of sleep for our safety and mental and physical well-being," writes researcher Susan L. Worley in "The Extraordinary Importance of Sleep," published in Pharmacy and Therapeutics.
Sadly, many of us simply don't get enough of it. We pack our days with work, family and hobbies and when nighttime arrives, we collapse into bed, scanning our phones before falling into a restless sleep. The next morning, we jolt awake to our alarms buzzing, blurry-eyed, and do it all over again. This can't continue! With such a strong link between sleep and your physical and mental health, it might be time to make some changes to your sleep strategy to get those 8+ hours you know you need. One suggestion? Follow the Scandinavian sleeping method.
Defining the Scandinavian Sleep Method
In the Scandinavian sleep method, simplifying sleep is key. You might remember our discussion on why Scandinavians sleep without a top sheet; an extra sheet or a pile of pillows simply isn't necessary for a good night's sleep and, in fact, these items can get in the way of a restful sleep. So it might seem counterintuitive to take on the other common Scandinavian sleep component—sleeping with two duvets. How does adding another duvet to the bed help you get a more restful night's sleep? Let's break down the pros and cons of sleeping with separate duvets.
Pros of Two Duvets
You can choose the duvet that suits your temperature.
You run hot. Your partner is always freezing. If you get separate duvets, you can each choose the weight of the duvet that suits your body's temperature. As our friend Minna Skovbo put it, "It's complete madness having to juggle a duvet the size of Finland without accidentally suffocating someone. Besides, it's easier to regulate the temperature with two single duvets. I will defend this choice to the very end!"


It's easy to adjust at night.
If you have your own duvet, how you adjust it in the night is up to you. Wake up hot? Sling your leg around it or poke your feet out the bottom. Chilled? Pull it up over your shoulders. There's no need to run it by the partner sleeping soundly next to you. "With such a packed work schedule and busy life outside of work it is endlessly valuable to get an uninterrupted night's sleep," says Maria Wandahl—supporter of the two-duvet method—and we couldn't agree more.


There's no fighting over the covers.
If you and your partner have your own individual duvets, that fight over the covers is simply nonexistent. The weight of the duvet, the pattern and fabric of the duvet cover (we're partial to our organic linen duvet covers!)—it's all up to you. You're able to create an individualized sleep environment while simultaneously steering clear of that potential relationship-ending bedding battle. "Because the fight for the duvet rarely ends with a winner," says Per Falk, separate-duvet follower. "With two duvets, both parties win."


Snuggling with the duvet has never been easier.
And, perhaps most importantly, you can pull your duvet in close, wrap your legs around it and snuggle it to your heart's content.
Cons of Going Separate
It's harder to be intimate.
A common argument against separate duvets is that it can affect intimacy. How can you snuggle if you're not under the same duvet? The truth is, it's more than possible to hop into bed and cuddle under separate duvets. The duvets can overlap slightly, or if you're feeling really cuddly, snuggle up under one twin-sized duvet. With separate duvets, you actually have more variety in snuggling than you would under a single large duvet. Then, when it's time to go to sleep, you each roll back under your individual duvets, comfortable and content with the duvet you've chosen.


Making the bed is more difficult.
Another common argument is that with two twin duvets, it's harder to make the bed neatly. Although making a bed with two duvets is different, it can be done beautifully and, without that dreaded top sheet balled up at the bottom, is actually fairly straightforward. There are several approaches we're fond of. If you're in a rush, simply spread the duvets out on each side, have them meet in the middle, and be on your way. If you have a bit more time, fold each of the duvets in thirds, lay them next to each other on the bed and then spread a soft throw or two over the lower half of the duvets. You can tuck the throws in around the end and sides of the bed or simply leave them draped.
How to Convince Your Partner
Need help getting your partner on board? Grab a few coffees and go over the benefits together. Explain that this individualized approach to sleeping just might be the best thing for a healthy relationship, that a one-size, one-temperature, one-duvet system isn't allowing you to get the uninterrupted rest you need. You're busy people and you need a good night's sleep to be happy and productive during the day. Creating a good sleep environment can play a big part in that. Making the switch to separate duvets is truly a sign of confidence and contentment, allowing you to be intimate while staying true to your own individual sleeping preferences.

Perhaps our friend Christian Splid said it best:
"Even though I love my wife very much, I don't share my toothbrush or underpants with her. Why would I share my duvet?"
Integrating Two Duvets Into Your Bedroom Designs
Decided to take the plunge and try the Scandinavian way of sleeping? Now it's time to select your duvet and duvet cover. We've recently launched our twin organic duvet covers and are absolutely thrilled to have these modern duvet covers round out our linen bedding collection. They're versatile, in solid colors and prints that complement each other, so you and your partner could choose the same or different. Our solid twin duvet covers come in grøn (green), blå (blue), grå (grey) and hvid (white), and our printed duvets feature some of the beautiful plants and flowers native to Scandinavian countries.
These linen duvet covers, made from the finest organic French, Dutch, and Belgian flax, are woven and hand-sewn in Portugal. With all of our Scandinavian duvet covers, you can sleep easy knowing you're under fabric that is sustainably-sourced, naturally hypoallergenic and antibacterial, and free from harmful chemicals.
Consider adding rustic wooden bedside tables, a woven rug or some greenery to your room to help bring those natural elements into your bedroom design even more. We love a tall potted indoor plant, like monstera or parlor palm, that can fill out and arch to become a real focal point. For more tips, check out our recent post about using scandi-style to bring serenity to your home.
Now that you've read the pros and cons of sleeping with separate duvets, have we converted you to this aspect of Scandinavian sleeping? We'd love to know where you stand on this! Share your thoughts with us on Instagram, Pinterest, Facebook or Twitter and be sure to check out our new collection of incredibly soft twin duvet covers, certified organic and softer with every wash.