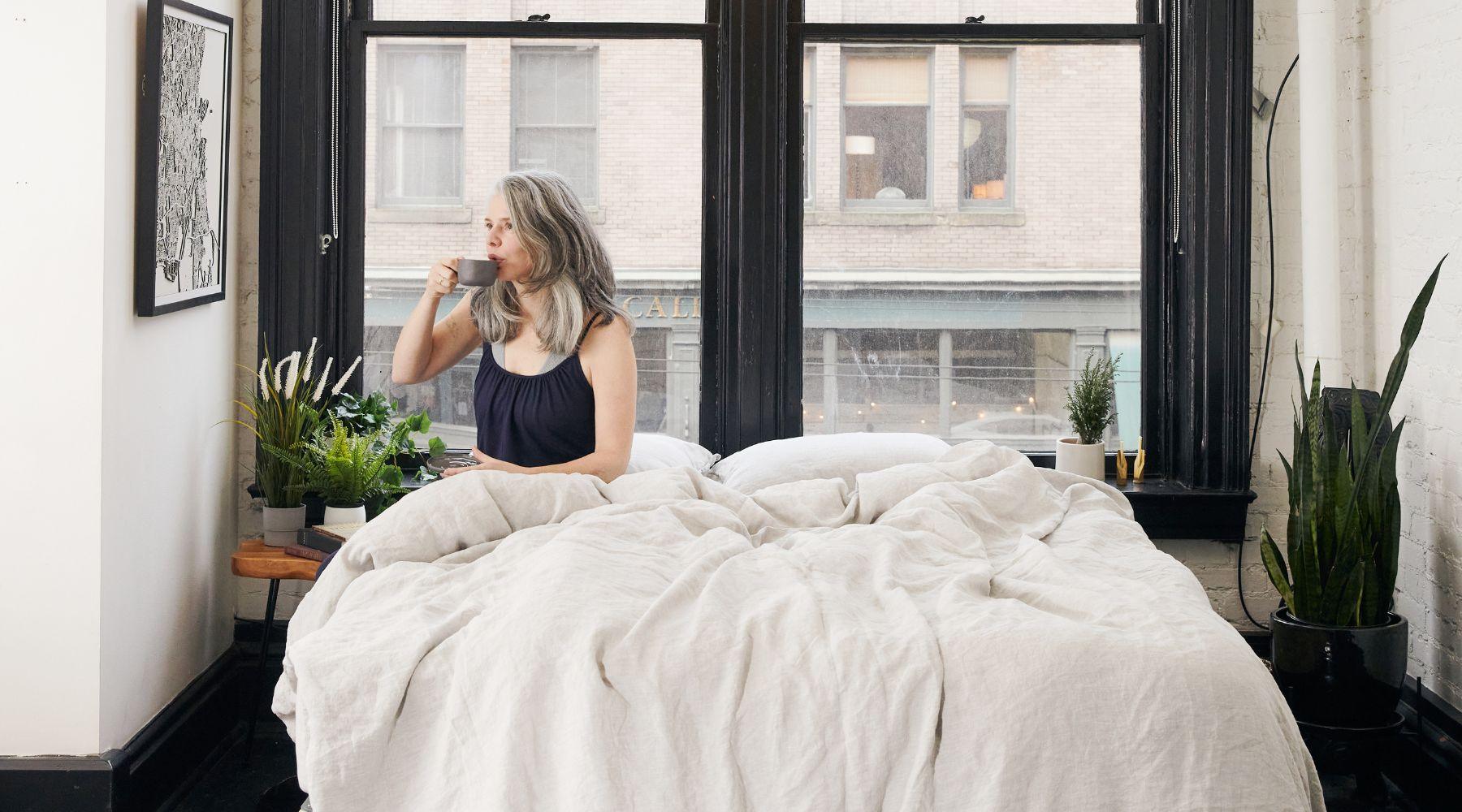 In short, yes—but that's part of its charm. Find out about the natural qualities of linen that cause it to wrinkle—and how to get wrinkles out of linen, if that's your preferred look.
Why Does Linen Wrinkle?
Linen is a natural fiber made from the flax plant. Linen, along with hemp and jute, is a bast fiber—bast fibers are made of lots of tiny cells packed together, as opposed to single-celled strands like cotton.
This makes linen extremely strong, which is why coarser-grade linen is used to make ropes and grain sacks for farming. Organic linen duvet covers can last decades—much longer than cotton ones, which pill and tear after a few years. Linen is also a little stiffer than other fabrics—not so stiff that it feels rough, but firm enough that it allows for good air circulation around the body, keeping you cool at night.
This strength and stiffness, however, means that linen lacks elasticity—and that's what causes it to crease easily. The fibers don't bounce back, so wrinkles stay set into the fabric, giving it that laidback, easy-going look.
How to Get Wrinkles Out of Linen
If you really can't stand the sight of wrinkles in your organic linen duvet covers, worry not! Getting wrinkles out of linen is just as easy as with any other fabric.
Good linen care starts with the correct laundry detergent. Avoid using whitening detergent on printed or dyed linen—this will cause fading, making wrinkles more pronounced over time. Wash on a low heat and make sure to turn duvet covers inside out, as abrasion against the sides of the washing machine drum can cause fading along seams. Make sure to remove the linen from the machine immediately once it's done—you'll get a lot more wrinkles if you let it sit there in a wet, crumpled heap!
Tumble-dry your organic linen duvet covers on low heat. If you can, remove them from the dryer before they are fully dry and hang them up—this will get rid of most of the wrinkles. From this position, you can also use a gentle steamer.
Still not up to standard? Our organic linen bedding can also be ironed on a low heat. Iron on the reverse side while still slightly damp.
Use Distraction
"Visual illusion can blur out creases better than any steamer," says Jess Cartner-Morley in the Guardian. Stripes are her preferred choice—but really, any pattern will draw the eye away from wrinkles.
At The Modern Dane, our Scandinavian-design bedding features patterns inspired by the flora and fauna of our native Denmark. The periwinkle-blue flax flowers of Hørblomst tell the story of our linen and where it comes from—and you can easily while away an afternoon counting and identifying all the Scandinavian bird species on our Fugle set. Either will distract any onlooker from wrinkles and creases!
If you're more about the minimalist look, keep in mind that creases are less visible on dark fabrics than light ones. Our single-color duvet covers come in leaf green and deep navy blue, perfect for hiding wrinkles.
Cover It Up
We Scandinavians prefer our bedding minimal: no fussy top sheets, cushions, or throws; just pure, natural linen. That said, draping a throw over your bed is a good way to cover up any wrinkly bits you don't want to see during the day.
Sleep On It
You can get wrinkles out of linen with zero effort… literally. When you sleep on linen, the warmth of your body causes creases to naturally smooth out. Of course, this does mean you'll need to rotate your sleeping position so that you lie on every part of your bed… it's a hard life, isn't it?
Or… Just Live With It
Personally, we prefer our linen to have the natural look—wrinkles and all. This casual, organic look sets it apart from the fussiness of pressed white cotton. And—as we've covered on this blog—cotton is not as clean as it looks. It's notoriously water-hungry—just one cotton t-shirt requires 2,700 liters of water to produce! Cotton also requires billions of dollars in harmful chemical pesticides to keep it healthy—in fact, the cotton industry consumes $2-3 billion in pesticides, or 16 percent of the world's total pesticide use.
By accepting the rumpledness of linen, you're making a stand for organic, ethically-made products, and embracing the beautiful imperfection of nature over "perfect" textiles that encourage the destruction of the environment.
Are you bothered by wrinkly sheets? What are your tips for removing creases? Let us know on
Instagram
, 
Pinterest
, 
Facebook
, or 
Twitter
!