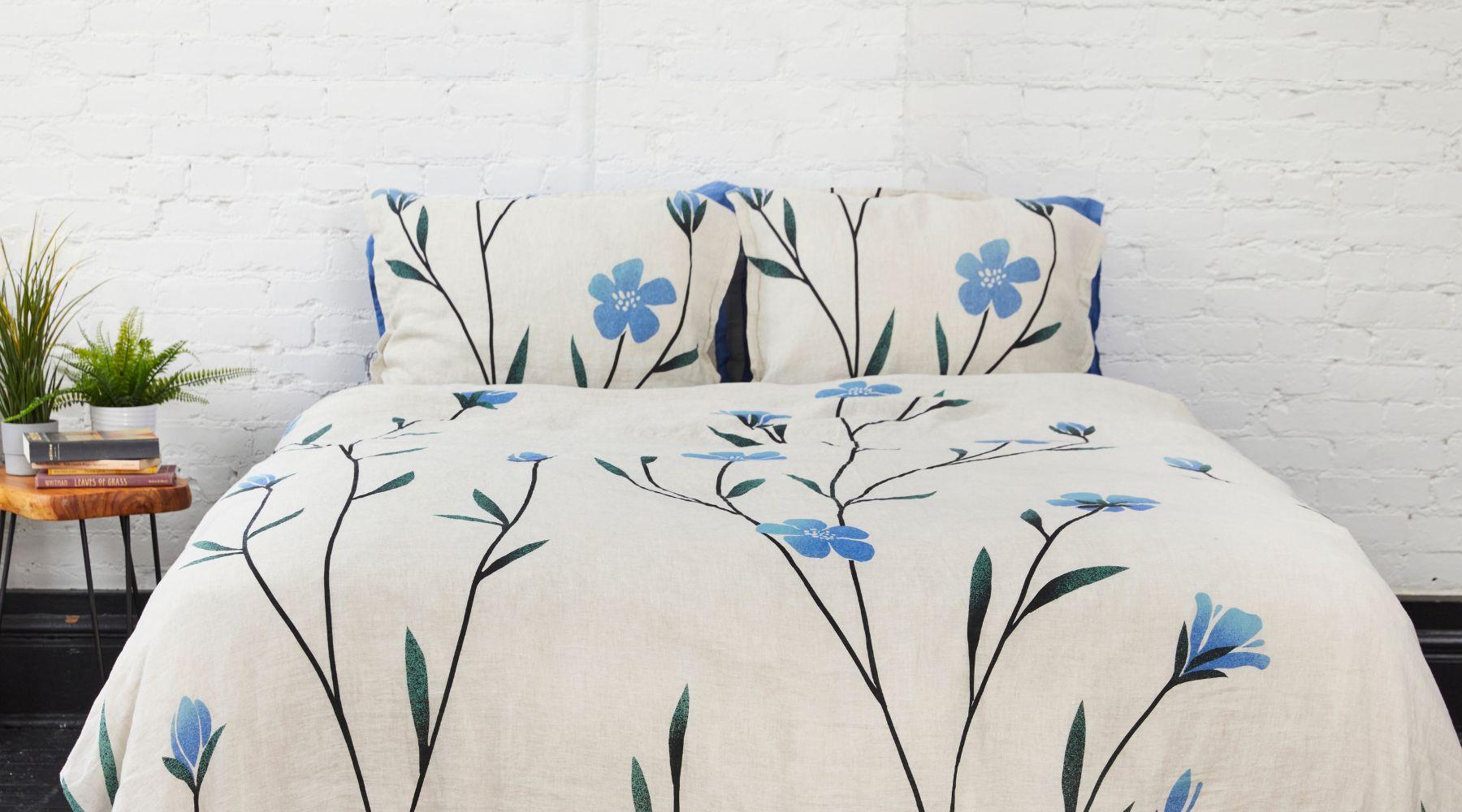 How to Make a Bed, Scandinavian-Style
From the number of duvets to the prints and patterns they're adorned with, a Scandinavian bed has a unique look and feel. See how to make a Scandi-style bed and find out why this style of sleeping helps so many get a restful night's sleep.
Duvets, Not Comforters (and Skip the Top Sheet)
When making the bed in Scandinavian countries, we use a duvet inside a duvet cover—that's it! For us, the simplicity of this method beats any other.
For many Scandinavians, top sheets are too much effort and fuss for busy mornings, so they skip it altogether. Comforters come with their own issues: they're difficult to wash, so many people don't bother, which allows bacteria, dead skin, and dust mites to build up, causing allergies and respiratory issues.
If you're too fond of your comforter, you could always place it inside a duvet cover, which will solve many of these issues. Remember, though, that comforters tend to be larger than duvets, so check our size guide before you buy one of our European duvet cover sets. To prevent the buildup of dirt, you should wash your duvet cover every other week or so.
Sleeping with Two Duvets
You'd be hard pushed to find a double duvet in Denmark. That's because the Danes—as well as many other Scandinavian and European countries—favor two twin duvets on the same bed.
Why? Well, for one thing, it's linked to better sleep. A survey conducted by the UK-based Sleep Council revealed that 30 percent of British adults reported sleep problems, with partner disturbance being the second most-cited reason (25 percent) after stress and worry (40 percent).
Partner-related disturbances take many forms—not just the obvious duvet-hogging or snoring. Sharing a duvet means that you'll feel when your partner moves or gets up in the night, and vice versa.
It also means that you can't customize your duvet to your preferences. Different people have different optimal sleep temperatures, meaning that they'll prefer thicker or thinner duvets. With one duvet for two people, you're effectively forcing both partners to compromise.
A poor night's sleep affects your mood and can cause friction with your partner—especially if said partner is responsible for your sleep disturbances. As well as affecting your mood and relationships, poor sleep can negatively affect your memory, concentration and decision-making skills. Over the long term, it can increase your risk of obesity, mental health disorders, diabetes, and cardiovascular disease.
The obvious drawback here is the perceived lack of intimacy. And yet, two partners sleeping under one duvet—or even in one bed—is a relatively recent phenomenon. Historically, couples slept in separate beds, with only those who couldn't afford to sleeping in one bed. Rather than bringing you closer together, sleeping under one duvet may drive you further apart—there's a strong link between poor sleep and higher rates of divorce (though you may not want to bring up that particular point when trying to convince your partner…).
The other issue is aesthetic. The traditional Scandinavian method of making the bed is to fold each duvet lengthways and lie them flat on the bed, but this can look a bit weird if you're not used to it—like two caterpillars on the bed. What you can do, then, is drape a throw over the bottom of the bed during the day, or keep the duvets unfolded but with a slight overlap in the middle.
At The Modern Dane, all of our Scandinavian-style duvet covers are available in twin size. We have a variety of prints and plain-color options, so you and your partner can each choose the one you prefer.
Natural, Sustainable Bedding
Respect for the natural world is a big part of Scandinavian culture, so we make our beds using natural, durable, and sustainable bedding, such as linen. Organic European linen comes from the flax plant: a carbon-negative crop which requires no artificial irrigation. Linen is also thermoregulating and hypoallergenic, which aids in a good night's sleep. When looked after properly, organic linen bedding can last for years.
As well as distinctive materials, Nordic bedding also has a distinctive look, with patterns and colors inspired by the natural world. Take a look at our full collection of Scandinavian-style duvet covers and transform the way you make your bed.
Would you ever consider the two-duvet method? How do you make your bed? Let us know on Instagram, Pinterest, Facebook, or Twitter!