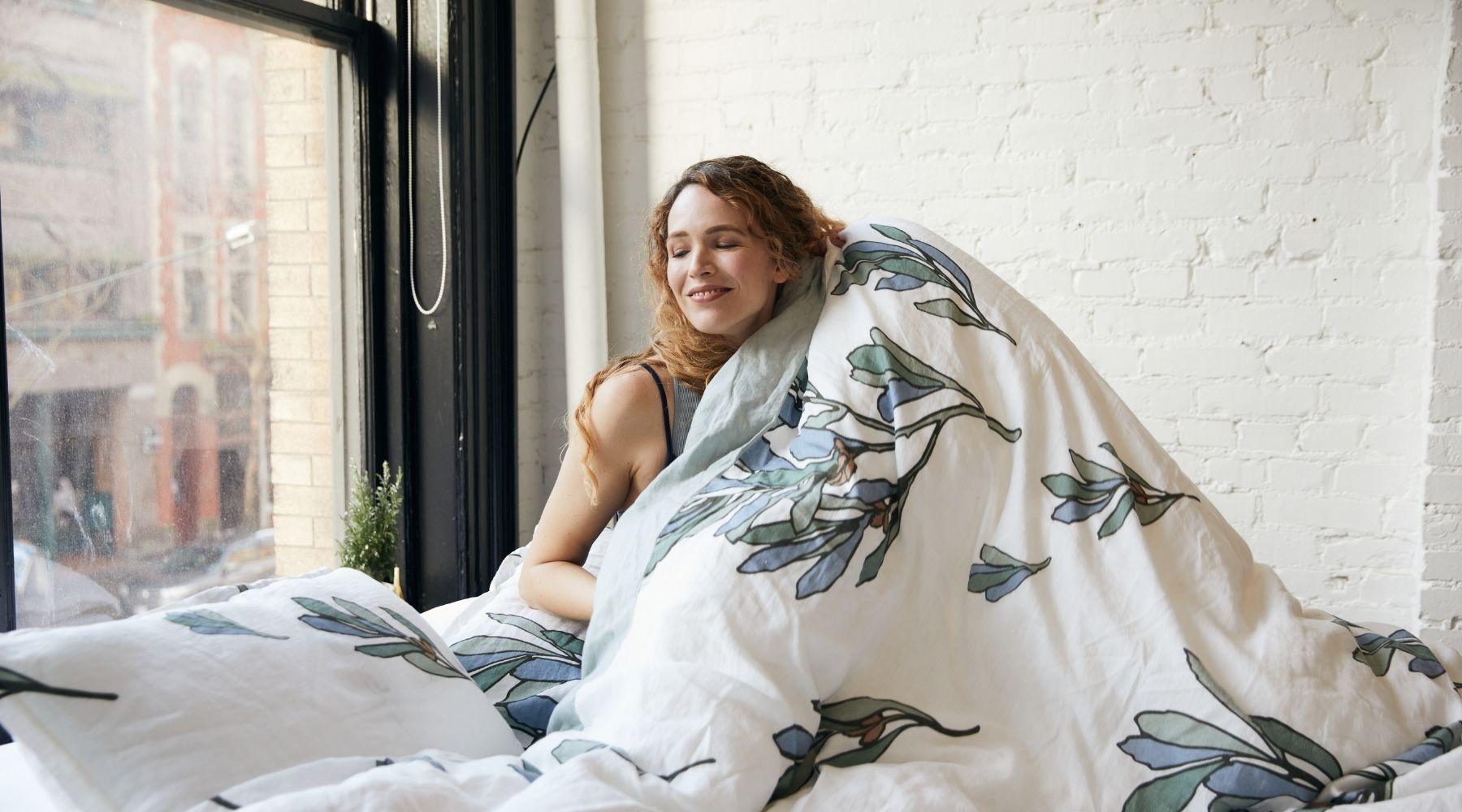 Most of us are familiar with the benefits of organic flax linen: it's thermoregulating, durable and sustainable. But soft? Here is where misconceptions still exist—many people think of linen as being rough and scratchy. In fact, quality organic linen is soft right out of the box—and continues to get softer over time.
The Science Behind Linen's Unique Texture
Linen is a bast fiber, which means that it comes from the inside of the plant—the flax plant, in this case. Bast fibers are tough and stiff, as they consist of many cells packed together (as opposed to cotton, which is a single-celled fiber). They're usually used to create rugs, ropes and other items where strength is key. This stiffness can cause wrinkling and roughness in new linen sheets. At The Modern Dane, our linen yarn is spun in water heated to 60°C (140°F), which smooths out the thread and produces a more comfortable fabric.
Not All New Linen Is Rough
There are various options available to linen manufacturers to make their sheets softer. Some use chemical softeners that wash off after a while, misleading the customer by masking coarse, poor quality sheets. Other brands use chemical pre-wash techniques to soften their sheets and prevent shrinking and fading. At The Modern Dane, we use enzymes to garment-wash our linen duvet covers before they get to you, so they'll be soft on first use. Washing helps break down pectin—a naturally occurring substance in linen that binds the fibers together—and using enzymes, which are biodegradable, is best for the environment.
If you're buying linen online, check reviews written by customers and professionals. Our European linen duvet covers earned the Top Pick designation for Best Organic Duvet Cover 2021 from the experts at SleepFoundation. We've also garnered over 100 five-star reviews from our customers, who love the out-of-the-box softness of our Scandinavian linen duvet covers. If you're still unsure, order a set of fabric swatches and feel for yourself.
"The Duvet cover is just wonderful. It is very beautiful but it is also incredibly soft and cuddly. I have never had linen bedding before and I just love it. The customer service from the company was also excellent. I highly recommend!"

     - Connie H.
One metric you should never use to judge linen quality is thread count. Linen threads are much thicker than cotton threads, so thread count means little. In fact, a higher thread count may cause you to feel hotter due to the lack of space between the fibers.
Linen Gets Softer Over Time
Unlike cotton, linen gets softer and softer with every wash, as the pectin that binds the fibers gently breaks down. Water alone will achieve this—there's no need for fancy fabric softeners. In fact, softeners may coat linen strands in a residue that affects their porousness.
With proper care, your organic linen duvet covers will last for decades. In parts of Europe, it's traditional to pass linen sheets down through generations. This vintage linen has a softness that's impossible to replicate mechanically, just as you can't hurry the aging process of a fine wine or whiskey. So, take good care of your linens—and they'll take care of you.
Have we convinced you to switch to linen? Naturally hypoallergenic and antibacterial, our Scandinavian-style duvet covers are a great choice for sensitive skin. And our covers are GOTS- and OEKO-TEX®- certified, meaning that they're organic and free from harmful chemicals. Check out the full range of our Danish-style bedding here. And feel free to connect with us on Instagram, Pinterest, Facebook or Twitter—we'd love to hear from you!