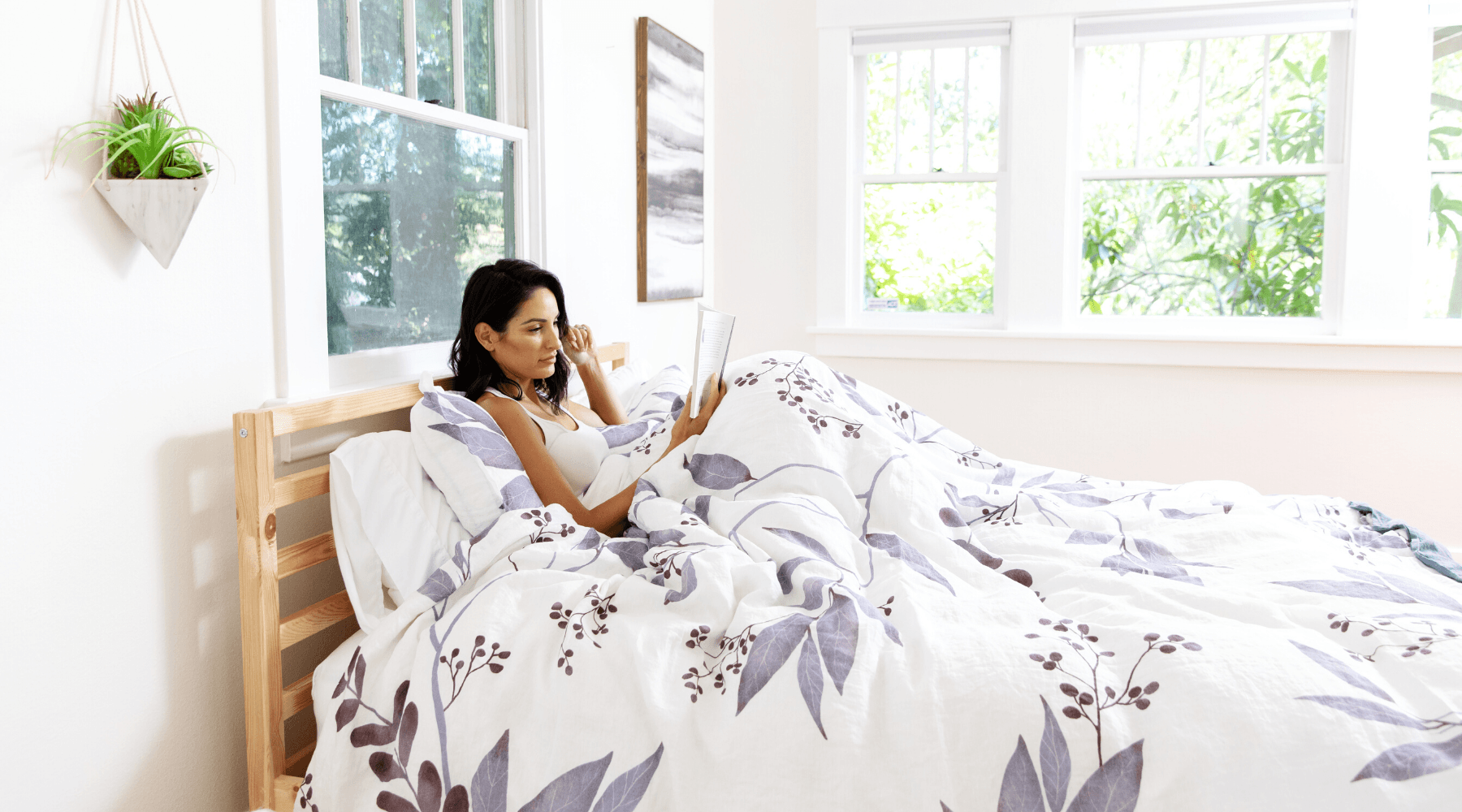 6 Ways to Give Your Bed a Summer Makeover
Hot weather is on its way, and gone are the days of flannel sheets and thick duvets. It's time to get your bed summer-ready. Whether you're thinking ahead or already feeling the heat, we'll give you our best tips on transforming your sleeping place for those warm summer nights.
Exchange your thick duvet for a lighter one.
A first-line treatment: exchange your thick winter duvet for something lighter. Look for a lightweight "summer" or "all-season" duvet, which can give you the warmth and weight you need, without leaving you overheated.
Still too hot? Try a blanket instead.
If you know you're a hot sleeper, and there's no duvet known to humankind that will be light enough, consider a blanket or quilt. Pro tip: you can still use a duvet cover on a blanket. Simply fasten the duvet cover ties around each blanket corner, or, if you're feeling crafty, you can sew your own loops at the corners.
Drop a layer, or two, or more...
If you already have a setup that's just a bit too warm, consider dropping a layer. And you don't have to stop at a blanket or two—you can even drop the top sheet. As long as your duvet is covered, it's perfectly sanitary. A duvet cover can be washed along with your sheets, and will help your duvet stay clean much longer than if it weren't covered.
Another layer to consider? Your sleepwear. If you're still wearing wintry pajamas, switch to something lighter, like sleeping shorts, a big tee, or nothing at all. You can always keep something warm by your bedside for when you need it.
Or add a layer to get the right balance.
Sometimes the problem is not your bed, but the temperature of the room. And during the transition to summer, temperature can fluctuate widely. After you get your bed summer-ready, keep an extra blanket or two nearby to add some extra warmth on those unexpectedly cool nights.
Keep the heat out (or bring in the fan).
If your bedroom tends to get a lot of natural light, you might consider yourself lucky in other seasons. But in the summer, strong sunlight can make a room unbearably hot. During the daylight hours, try closing the blinds to keep the heat out, and open them (and your windows) when the air is the coolest.
Of course, if your summers are hot enough to defy minor adjustments like these, you might be in the market for a fan or an air conditioner.
Lighten up with a style refresh.
Summer lightness is more than just escaping the heat. To visually make the transition to summer in your bedroom, try changing your style. You can start with lighter colors, such as in your sheets and duvet cover. Then move onto décor accents, like rugs or drapes. The key is to move from heaviness and warmth to an overall look of light and cool. And don't forget to celebrate the season. Add some summer flair with flowers, or things that remind your favorite things about the season. (For some truly unique summer bedding inspiration, see our Agern and Blålig duvet cover sets, both inspired by the summer colors of the Danish outdoors.)
Want more helpful tips?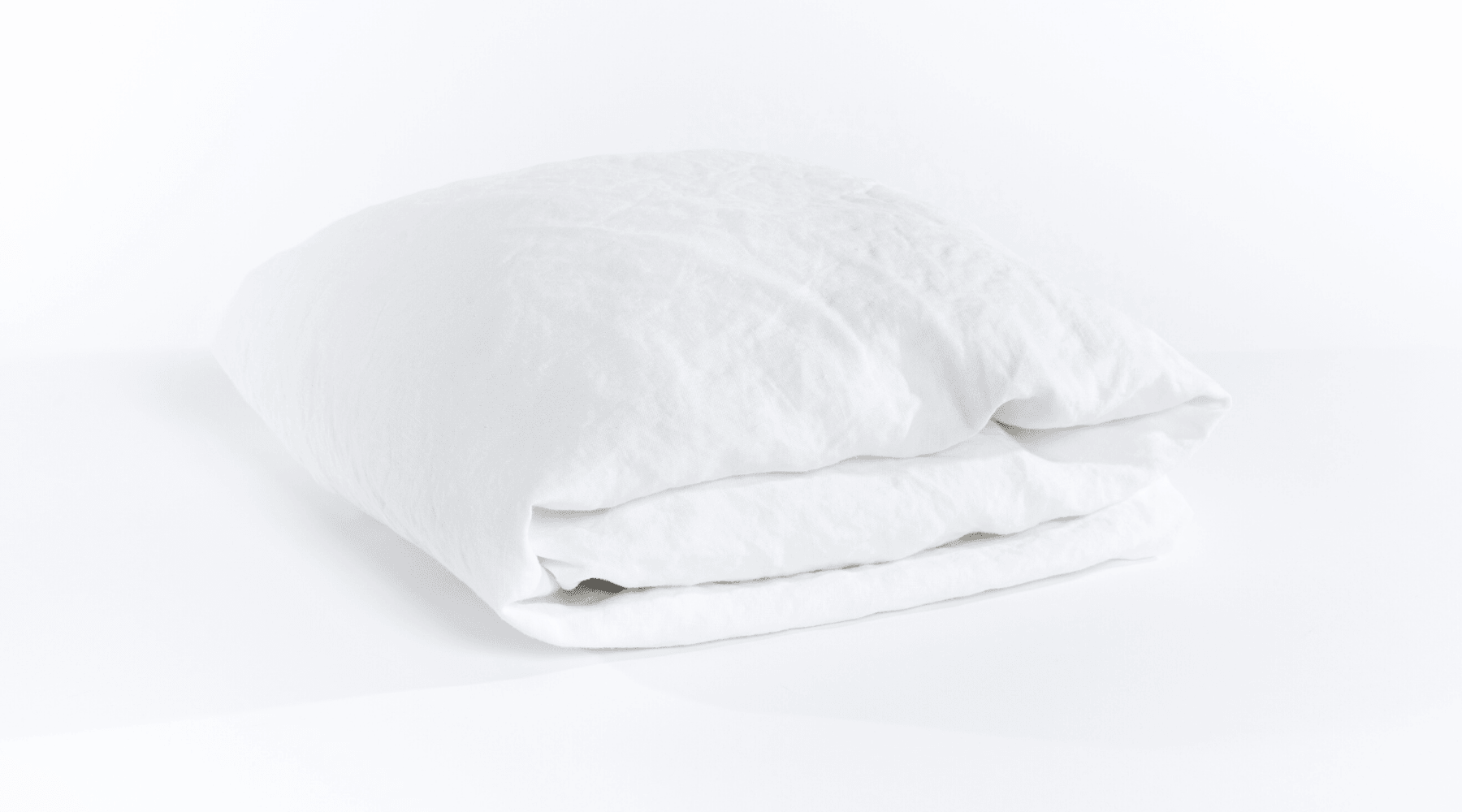 Confused about how to fold a fitted sheet? We'll show you how to get it done—without resorting to wadding it into a ball and cramming it into the closet.
Read more